Yorkshire give battle in vain as Luke Wells helps Lancashire to Roses spoils
Below-par batting effort from home side exposed by comfortable chase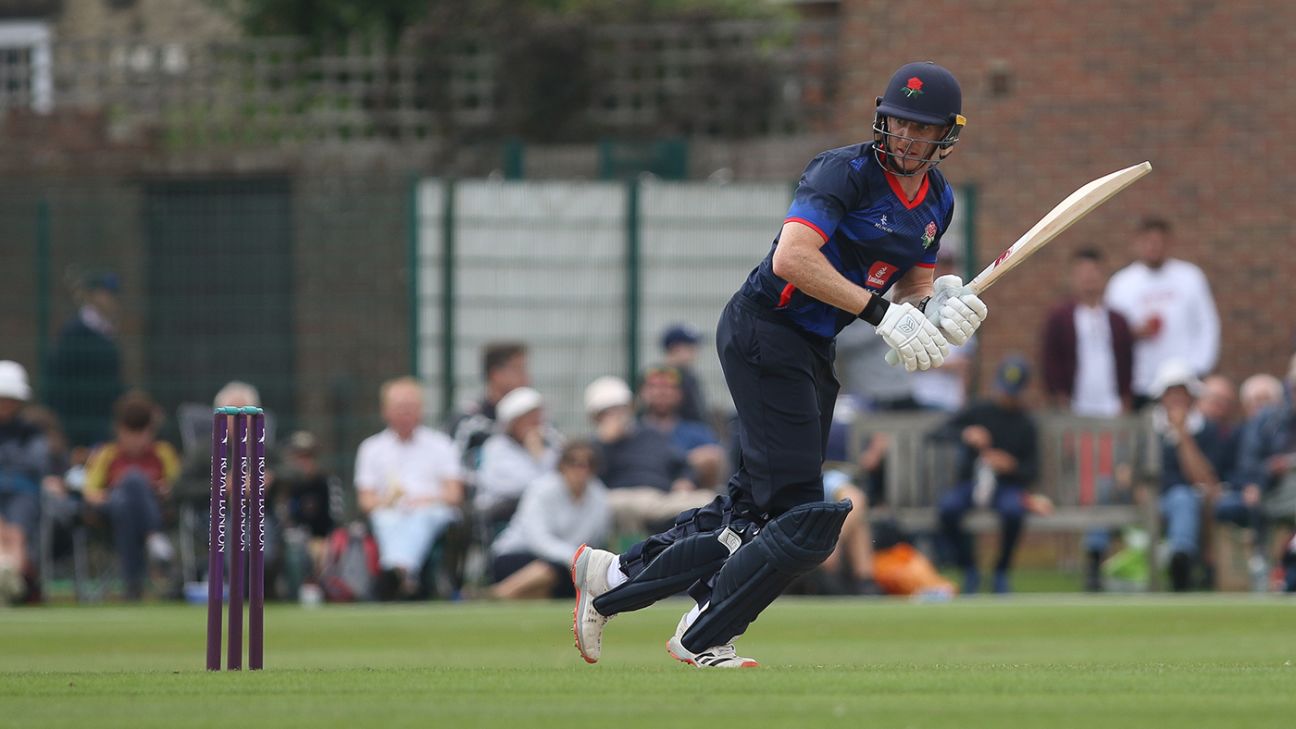 Lancashire 228 for 3 (Wells 88, Bohannon 51) beat Yorkshire 224 (Fraine 41, Lamb 3-32) by wickets
Perhaps it was the eight White Rose pennants that fluttered atop a mighty corporate hospitality marquee that itself bore a passing resemblance to a medieval pavilion. Maybe it was Clifton Park's semi-rural location with the busy road at our backs and little on the horizon beyond the cricket ground except 33 acres of trees and green pastures.
In truth, though, it was probably the result of this match that reminded one of Towton, a place which lies around 13 miles from York's Clifton Park ground and was the scene of the bloodiest battle in the Wars of the Roses. On Palm Sunday 1572 over 50,000 men slugged it out for nearly ten hours and the Yorkist victory led to the deposition of Henry VI, who had rarely been match-fit, by Edward IV. This was not a massacre on that scale – it's said the surrounding rivers ran with blood – but it was the most comfortable of victories for Lancashire, whose batsmen reached their target of 225 with nine overs to spare. And it was easier than that.
However, even in the partisan home dressing-room at Emirates Old Trafford, "Revenge for Towton" has rarely been a battle-cry and it might mean next to nowt to Eastbourne-born Luke Wells. Nevertheless no one was more responsible for Lancashire's comprehensive stuffing of their old rivals than Wells, who took 2 for 25 with his spinners, mainly leggies, and then whacked 88 off 67 balls to reveal the inadequacy of Yorkshire's 224 all out.
And all this took place in front of a crowd of nearly 5000 spectators, many of whom had turned up in the hope of a Yorkshire victory only to be shown the superiority of a Lancashire side packed with seasoned professionals over a Yorkshire team containing at least four players who are still adjusting to the brutal school that is first-team county cricket. In the spirit of the Royal London Cup, those apprentice cricketers will surely have learned a few things about the life they have chosen.
But for a fair few in this good-natured and loyal crowd, the day had begun with an incomprehensible and discordant blast of modernity. Less than an hour before play began Eminem had blared out at spectators, many of whom probably still regard The Tremeloes as cutting edge. Others were better acquainted with the curious doings of Slim Shady. Younger spectators – and there were beyond plenty of them – conducted alfresco tutorials although this pedagogy didn't last long before sane counsel prevailed.
By just gone 11 o'clock there was not a seat to be had and for nearly an hour the locals enjoyed what they saw. Assisted by a generous portion of sundries and general indiscipline – Jack Blatherwick was particularly culpable – Yorkshire's openers, Will Fraine and Harry Duke, chugged along at six runs an over with Fraine's pull over long leg off Blatherwick bringing a particularly loud cheer from most in the 2200-seat main stand. The noise when Duke inside-edged a fine seed from Will Williams to George Lavelle and departed for 17 was rather less obvious and nothing more than a few grunts followed two overs later when Fraine was dismissed for 41, caught by Keaton Jennings off Danny Lamb when an attempted clip to square leg only skied a catch to mid-on off the leading edge.
To a degree, that opening stand of 66 in 11.2 overs was as prosperous as Yorkshire's day got. While the remaining batters maintained a rate of five runs an over, the home side were to lose a wicket on average every 24 balls, with the result that after 33 overs, the Vikings, well named in the city that boasts the Jorvik museum, were 169 for 8.
One or two batters, Duke for example, were winkled out by good nuts. Others played a full part in their downfalls. Three deliveries after Fraine's dismissal George Hill received a delivery from Lamb that tailed in a little but this fine young cricketer played across it a shade and was lbw. And Hill clearly has an issue with this type of ball. In the past 11 days he has received ten deliveries in competitive first-team cricket and he has been lbw to three of them. Perhaps a trip back to Sedbergh and a session with his old coach, Martin Speight, would be in order. Certainly Hill is too good a player to be pinned like a butterfly every three balls he receives.
The faults of some of Hill's team mates were plainer to see. Having hit Lamb for a couple of lovely fours, Will Luxton fished at a delivery from the same bowler and gave the Lancastrian his third wicket. Almost inevitably, the sweep claimed a victim when Dom Bess's arthritic effort gave umpire Jack Shantry an easy decision and Washington Sundar his first wicket. That left Yorkshire on 137 for 7 and 20 minutes later Tattersall was fatally hit on the front pad when attempting a front-foot shovel off Wells.
Some common sense batting by Ben Coad, who made 20, and Tom Loten, who contributed 32 not out enabled Yorkshire to reach 224 but it is revealing that while nine home batters reached double figures, none made more than 41. And few in the mid-innings break thought the score would be competitive unless Lancashire's top- and middle-orders were complacent beyond forgiveness.
The answer to that unspoken question was quickly supplied. Keaton Jennings was caught at slip for 20 off Coad, whose spell of 1 for 19 from ten overs was a gloriously spartan effort in a losing cause, but no other member of Yorkshire's attack conceded less than six runs an over. Wells was dropped on 11, a tough one-handed chance to Hill at short cover, but that escape only emboldened him. He and Bohannon put on 102 in 12 overs and the game soon acquired the slightly tedious air of a limited-overs contest whose outcome is plain well before the fact is recorded.
Wells holed out at long leg off Matthew Revis when the book had been closed on his century and Bohannon played on to Loten for 51, but given an opportunity for some batting practice, Steven Croft and Washington Sundar put on an unbroken 51 in twelve overs of gently serene cricket on a warm summer's evening when no spectators thought themselves short-changed. Much of the credit for that goes to York Cricket Club whose hospitality was outstanding and whose general management of this lovely event appeared beyond serious criticism.