History weighs heavy on Ben Duckett, Haseeb Hameed despite 402-run stand
Madsen, Guest post unbeaten fifties in reply, but Derbyshire trail by 454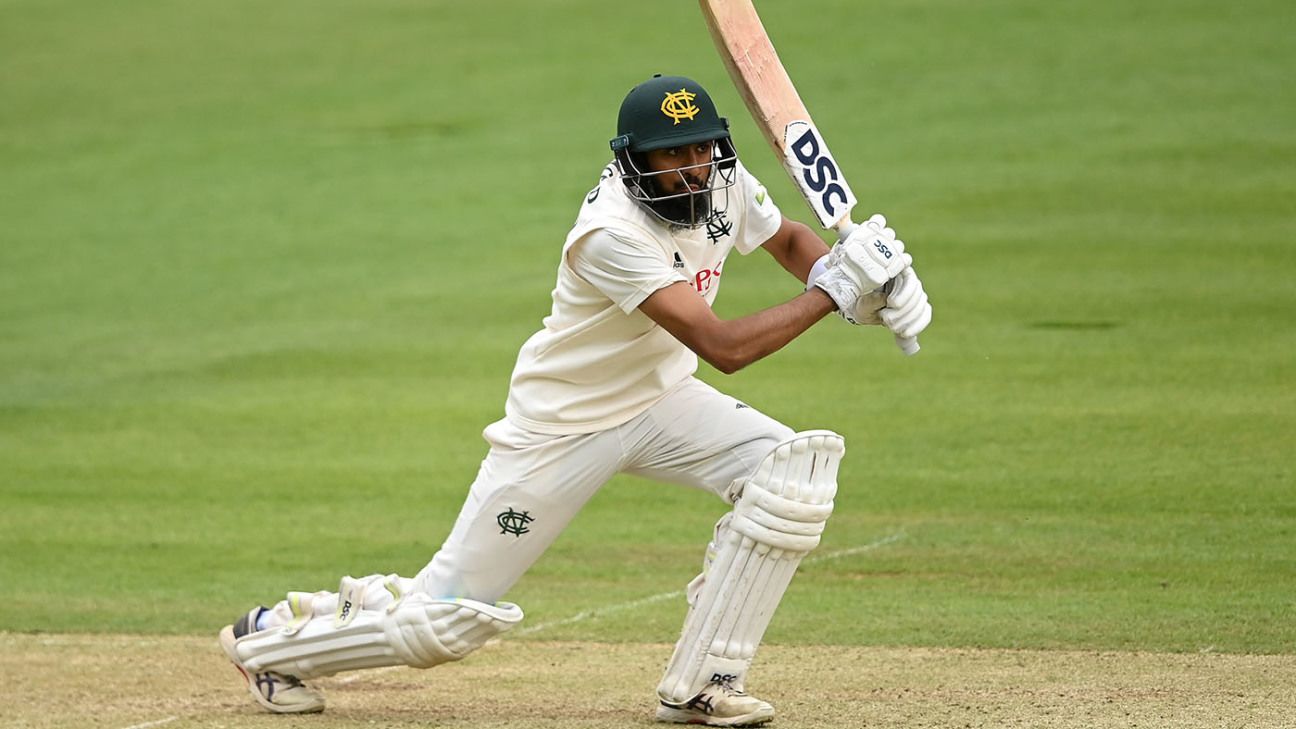 Derbyshire 164 for 2 (Madsen 57* Guest 50*) trail Nottinghamshire 618 for 8 dec (Duckett 241, Hameed 196, Patterson-White 54) by 454 runs
"Too much too soon" is the sort of phrase that sticks in the craw of many ambitious young people of talent, and often with good reason, but watching Ben Duckett and Haseeb Hameed complete the final touches to their stand of 402 it was tempting to imagine that as far as their shelved England careers are concerned it might have been the case. If they happened to be being spoken about as England candidates for the first time today, Duckett, at 27, and Hameed, two years younger, would certainly be worthy of serious discussion. Instead, history weighs heavily upon them.
Duckett had four Tests in Bangladesh and India at the tail end of 2016, but whereas England had imagined an inventive player against spin bowling, they found a batter whose technique was unravelled by Ravi Ashwin. He followed that up in 2017-18 by spilling beer over Jimmy Anderson in a Perth bar when he was part of the Lions shadow squad which predictably turned out to be an unsuccessful gambit as far as career progression was concerned.
Hameed does not drink beer, never mind throw it. He made 82 in a Test debut against India in Rajkot, alongside Duckett, before a collapse in form led to a five-year absence and an unrewarding return against India and Australia. England gave him a second chance – but they did so against the most difficult opponents imaginable at a time when he was only just beginning to put his game back together.
When England caps have been discussed this year, the debate as far as Nottinghamshire are concerned has centred around the moral rights and wrongs of giving a debut to Joe Clarke. Duckett, by his own admission, in his early years could find it difficult to focus, which has never been held against Hameed who has been accused of concentrating too much. They make up a trio of Notts batters on the fringe of things.
Stands of 402 in 85 overs tend to remind people that both are still around. They had 393 banked overnight from England's hottest day, so only added another nine before Duckett chopped on against Ben Aitchison, but that was enough to overhaul Billy Gunn and Arthur Shrewsbury's record for Notts' second wicket, as well as achieving the fifth-highest second-wicket stand in Championship history. Only one Notts partnership eluded them – they fell five runs short of the 406 put on by Darren Bicknell and Guy Welton for the first wicket against Warwickshire in 2000.
Impressive stuff, and it was intriguing that the previous day both had credited experience on the sub-continent with giving them the know-how to succeed – a reminder, if it was needed, that England Lions tours should be a key part of young players' development.
So get 'em picked then, get 'em picked. There is a deliberate irony there. Because that is precisely what people were saying when they were first selected. Everybody gets excited by the sensation that they are backing the next undiscovered superstar. Nobody says that now that reality has dawned and deficiencies have been unpicked.
A Derbyshire attack struggling to cope with England's hottest day was also no examination of Test calibre. Even allowing for the exacting conditions, they offered so many freebies that maybe a course on Excessive Gift Giving Psychology is in order. But both are better players then when they were first selected and both bat in the top three where England's deficiencies are most obvious and will creep into the consciousness again once Bazball loses its lustre.
So much for the first 20 balls of the day. What about the rest? Once Duckett departed, Hameed sought to maintain his balance on a Nottinghamshire ferry that suddenly started to list badly, six more wickets lost by lunch. He never quite recovered his composure after he was struck on the helmet by George Scrimshaw and was seventh out for 196, a drive against Aitchison picking out backward point and denying him a first double-hundred of his career. His fling back of his head in disappointment spoke volumes. Aitchison had lifted his standards markedly, but on the evidence of the previous day just don't expect too much from him on a Greek holiday in mid-August.
Derbyshire had a good morning, just concentrating on righting their inadequacies of the first day by winning the session. Sam Conners beat Clarke with a swinging delivery and Scrimshaw followed up his blow on Hameed's helmet by having Lyndon James caught behind in his next over. Steven Mullaney pulled Scrimshaw to deep square leg and Tom Moores edged a drive at Aitchison. After lunch was a different story as Liam Patterson-White and James Pattinson put matters into perspective with a stand of 105 off 85 balls. All the good work wasted.
Two botched pull shots accounted for Derbyshire's openers, and Wayne Madsen was briefly harried by James Pattinson and Dane Paterson, edges at catchable height followed by a succession of lbw shouts. Compared to the first day, this felt like more of a contest. But Madsen survived and by the close of the second day both he and Brooke Guest had unbeaten half-centuries. At 164 for 2, they trailed by 454. Best not to look at the scoreboard.