Jordan Cox 94 leads Kent to victory at Somerset
Klaassen, Linde and Stewart claim two wickets each to seal comfortable win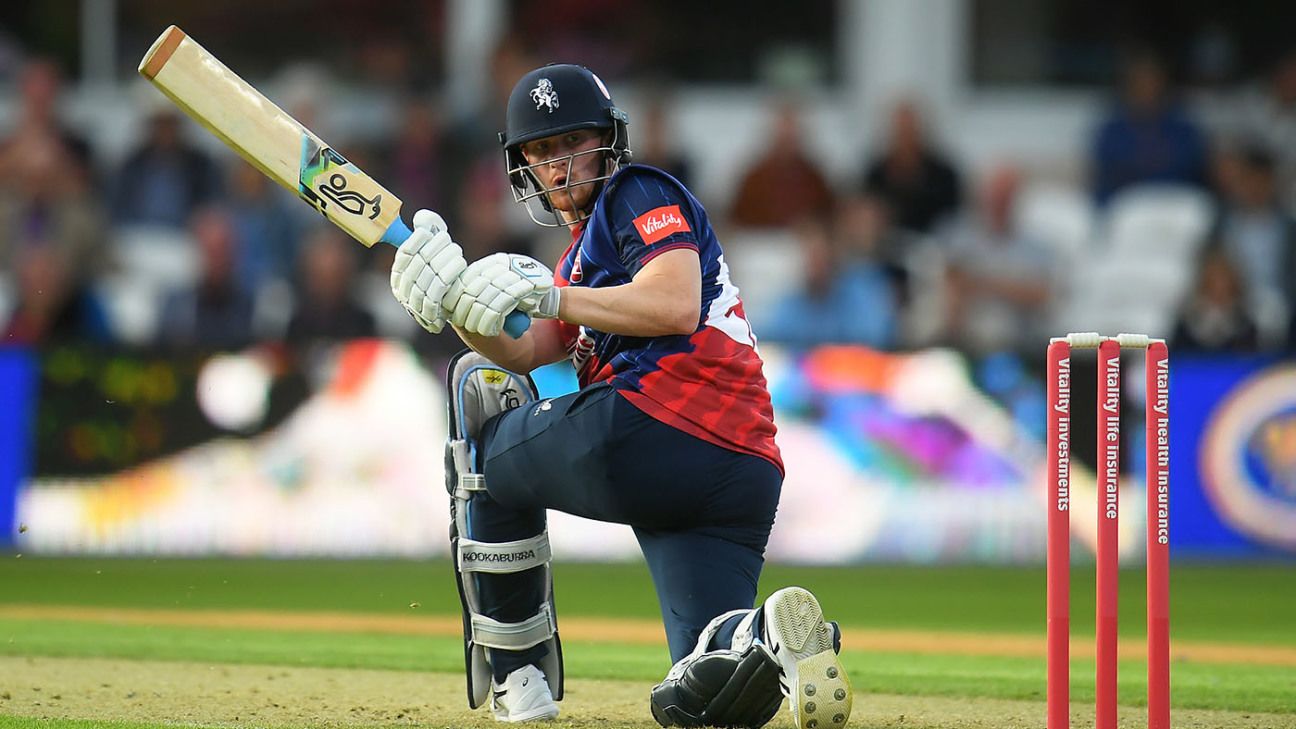 Kent 202 for 7 (Cox 94, Overton 3-31) beat Somerset 170 for 9 (Abell 43) by 32 runs
Sick of the sight of him. That's what Somerset will be when it comes to Jordan Cox. One suspects they won't be the last county either.
Cox broke Somerset hearts in the 2021 Blast Final with an unbeaten 58 from 28 and a candidate for catch of, well, cricket. This time he had a Taunton crowd scuttling for cover with 94 off just 47 balls, a statistician-pleasing strike-rate of 200, and, most importantly, Kent's title defence belatedly up and running.
Kent posted 202 for 7 all in and, in response, Somerset stumbled to 44 for 3 in the powerplay. Will Smeed, Tom Banton and Rilee Rossouw had all been and gone: thereafter they were simply limping and waiting to be put down.
As the Group stages near halfway, meaningful glances can be had at the table. Kent fans will wince: this was just their second victory of the season. But this format is all about momentum: if the Spitfires can find it, reaching the quarter-finals is not impossible. Somerset had theirs checked but are still excellently placed.
Cox was afforded one lifeline en-route to a career best, Lewis Gregory putting down a chance that ought to have been taken. Cox had 53 then and should have been the latest Ben Green victim.
But this was a supreme knock. Kent were looking sub-par relatively late in the innings but Cox was unflustered. The first of his six sixes came in the 12th over. It was a remarkable shot off Craig Overton, released from the England Test squad. Cox danced inside a short ball, swivelled and disturbed the graves t'other side of Gimblett's Hill.
Back into his shell he went, until over 18 which – by the way – started with Kent 148 for 5. From deep in his crease, Josh Davey was struck effortlessly down the ground. A wide later came a charge and a loft over cover. The over cost 26, George Linde also helping himself to a four and a six.
Brad Wheal, Chris Wood take Hampshire to four on the spin

Sussex lose 8 for 23 as Gloucestershire seal stunning comeback win

Feroze Khushi cracks 67 as Middlesex lose fifth in a row
Then came Green's punishment. Tom Abell deployed more protection for the leg-side perimeter than is seen at many top-flight football matches. It mattered not: three times the ball sailed towards the Fan Zone with 47 off overs 18 and 19.
Cox first came to the attention of those outside Canterbury and its surrounds in 2020. A 423-run stand with Jack Leaning saw Cox make an unbeaten 238 from 570 balls (with 50 boundaries). Not out overnight, Cox had spent the morning warm-ups asking each team-mate for details of their respective first-class bests. He also informed them they would be surpassed, and in several cases that came true. Swagger then, but also the goods to back it up.
The Cox drop was not the only catch Somerset shelled. It was a rare off night in the field for them. Overton, usually with hats like buckets, found a hole in them and gifted Alex Blake six. When the following delivery was rifled towards the Taunton flyover, Overton avoided Davey's gaze. Then redemption: Blake smashed in Overton's direction again. Only fools make the same mistake twice.
Kent's start was stodgy, just 13 taken in the opening trio by Joe Denly and Tawanda Muyeye as both struggled to circumnavigate fielders.
Then came Overton and Denly hit him over the top. Next, Muyeye performed an audacious flick over his head for six. Overton's nostrils flared. But Muyeye immediately drove straight at Abell. Out wandered Grant Stewart and, having miscued one straight up, he was caught by Roelof van der Merwe.
Denly and Cox were steady but struggled for fluency. Even so, on a small ground they ticked over nicely enough. They had added 89 for the third wicket when Overton returned. Abell regularly turns to his leading man when a partnership needs breaking and break it he did with Denly on 41 off 36 balls.
Overton now has 35 T20 wickets for Somerset since 2019 began and 25 of those have seen off top-three batters. Oddly neither he, nor Gregory completed their spells.
Post-interval Smeed took just two off Fred Klaasen's opener. Unused to being tied down, Smeed eyed up cow corner and was bowled off his back thigh pad by Linde. An over later, Klaassen had his 50th T20 victim for Kent, Banton edging behind having just hit back-to-back boundaries.
Then the big one. And it was a gamble from Sam Billings who threw Leaning the ball in over four. Rossouw – who had scored six from his first ball from Linde – swept, missed and was done. A cursory glance back at the stumps only reconfirmed that they had shattered.
From there it was a near impossible task. Abell made a typically brisk 43. When he fell, van der Merwe wandered out. Surely, he couldn't do it twice in a row? An unbeaten 48 from just 15 balls to win Thursday's west country derby remained fresh in the memory. No. It was not for lack of trying though.
There was still time for another Overton moment. Leaning felt he had fairly caught Green on the boundary off Matt Milnes. Umpire Hassan Adnan shot across to his colleague Russell Warren to suggest Leaning had crossed the line. Overton almost did in remonstrating with Billings, before signalling six much to the crowd's delight. Eventually, Green stayed put and six was indeed added.
Billings later thought he had caught Green off Stewart but Green was given not-out and again Overton gesticulated with his bat. Later in the same over, an Overton top-edge went up and up and Billings covered much ground to claim the catch, before shushing the crowd.
Green ended with 40 from 28 but the final ten overs were simply going through the motions as Kent claimed an emphatic victory, the wickets shared: Klaassen, Linde and Stewart each with two.