Tiwary 136, Nadeem five-for the highlights as Bengal vs Jharkhand ends in bland draw
First-innings lead carries Bengal into the semi-finals, where they will take on Madhya Pradesh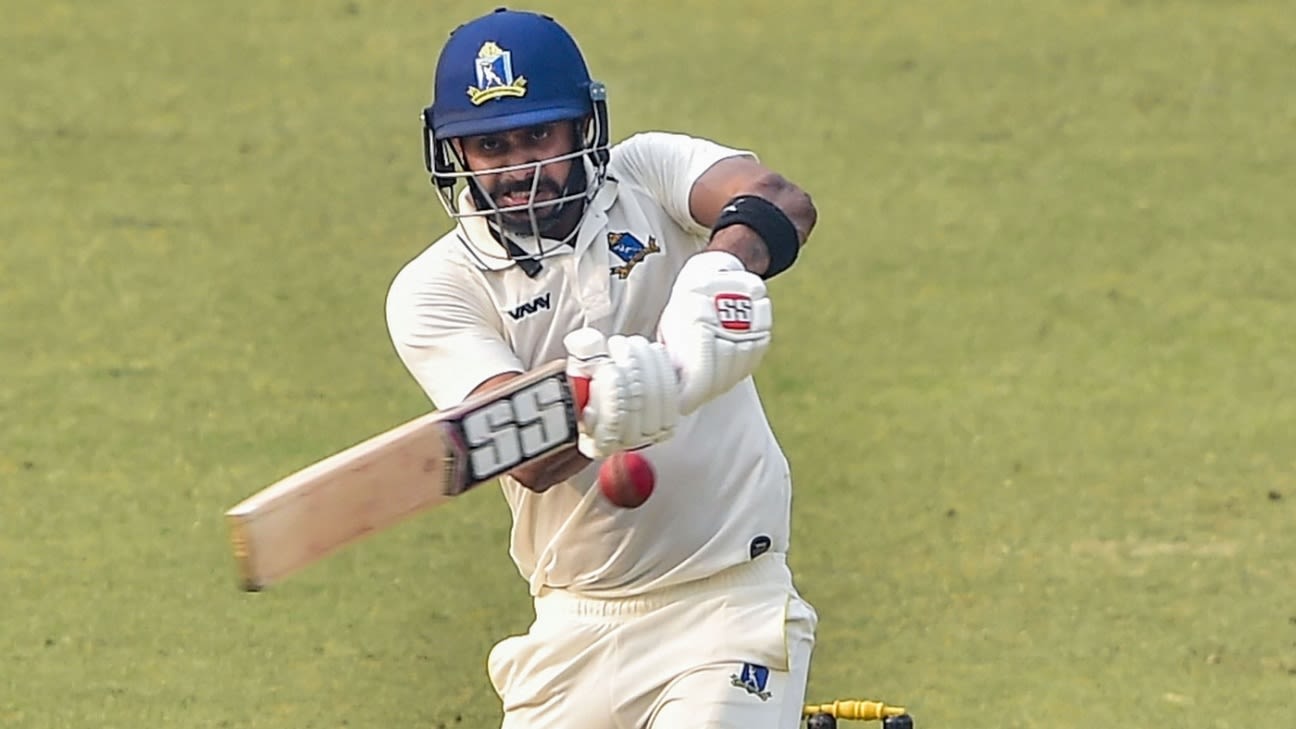 Bengal 773 for 7 dec and 318 for 7 dec (Tiwary 136, Nadeem 5-59) drew with Jharkhand 298 (Virat 113*, Siddiqui 53, Shahbaz Ahmed 4-51, Mondal 4-71) – Bengal qualify for semi-finals on the basis of first-innings lead
The Bengal vs Jharkhand quarter-final meandered to a stalemate, as expected, giving Bengal a semi-final berth on first-innings lead. Prospects of a result all but vanished when Bengal decided to bat a second time on the fourth day despite a lead of 475 runs, and stumps were called early on the final day when Bengal they their second innings on 318 for 7.
Manoj Tiwary hitting form with an innings of 136 was the big takeaway for Bengal ahead of their semi-final against Madhya Pradesh. Tiwary had also scored 73 in the first innings. There were also contributions from Anustup Majumdar [38], Abishek Porel [34] and Shahbaz Ahmed [46]. Shahbaz Nadeem bagged 5 for 59 for Jharkhand in what was the lone bright spot in their bowling across two innings.
Like Nadeem did with the ball in the second innings, Virat Singh's was a one-man show of sorts with the bat, as he hit an unbeaten 113 the only time Jharkhand batted. Jharkhand were bowled out for 298, with Shahbaz Ahmed and Sayan Mondal picking up four wickets each.
Shahbaz Ahmed also hit 78 in Bengal's first innings, as Bengal made merry by scoring 773 for 7 by the third day. All their top-nine batters hit at least a half-century – a world record – with Player of the Match Sudip Gharami top-scoring with 186, and Majumdar hitting 117.
Akash Deep had provided some late entertainment before Bengal declared by smashing 53 off 18 balls – including eight sixes – as Bengal kept Jharkhand on the field for nearly 219 overs.
In a way, Jharkhand got a taste of their own medicine, having chosen to bat again during the pre-quarter-final against Nagaland despite being 591 ahead in the first innings. Not just that, they went on to score 417 in the second dig, too, eventually finishing with a lead of a whopping 1008, the biggest in the history of first-class cricket.
Bengal now play Madhya Pradesh in the semi-final, and have a shot at making back-to-back Ranji Trophy title rounds, while Mumbai and Uttar Pradesh face off in the other semi-final. Both matches will start in Bengaluru on June 14.