'We have to be realistic' – Dravid tempers Malik mania
The pace sensation set the IPL on fire but he may have to wait just a bit to get an India cap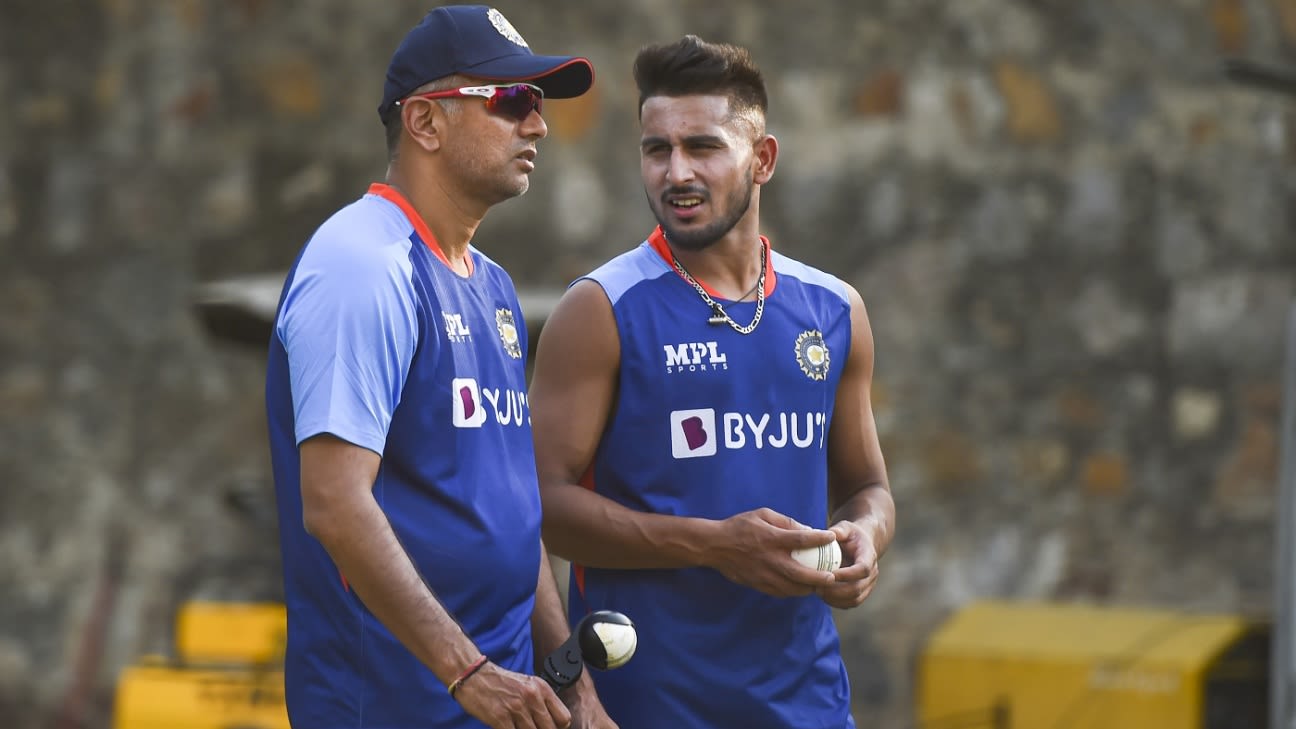 Umran Malik is an "exciting" prospect but he may not get a chance to represent India straightaway. That's essentially what head coach Rahul Dravid said two days out from the first T20I against South Africa in Delhi.
Malik had impressed everyone with his pace in IPL 2022, bowling consistently in the vicinity of 150kph and picking up 22 wickets from 14 games. He provided Sunrisers Hyderabad, his IPL franchises, with regular wickets in the middle overs but might have to wait for India cap.
"Watching Umran in the nets even yesterday, he has got that pace," Dravid said. "He is a young boy who is learning all the time. He is getting better and improving all the time. The more games he is able to play, the better he is going to get.
Full-strength South Africa take on injury-hit India under T20 World Cup shadow

Dravid enthused by Hardik's return to bowling and hints he might play as finisher for India

'Umran Malik will take the world by storm if selected for India'

Umran Malik, bringing the IPL alive with raw pace
"From our perspective, I am very happy to have someone like him in the mix. We just have to see how much of playing time we will be able to give him. We also have to be realistic, we have got a really large squad. It's not possible to give everyone playing XI time.
"I am certainly someone who likes to have a bit of consistency and give people time and let them feel settled in the position. So it's a question of seeing how much playing time you can give people like Umran, and Arshdeep [Singh] who is another exciting, brilliant guy."
Dravid hinted that India may start with Bhuvneshwar Kumar, Harshal Patel and Avesh Khan before trying out Malik and Arshdeep.
"Obviously we have got a few experienced guys who have been with us before – Harshal and Bhuvi, and Avesh played a few games in the last series [against West Indies, in February 2022] as well," Dravid said. "So there are a few people who have been playing, but it's nice and exciting to have a couple of young guys in the mix as well. Like I said, it has given us an opportunity to broaden our pool, look at a few more players and see what they can do."
Dravid was also pleased with Kuldeep Yadav's return to form in the IPL as the wristspinner is someone who can "turn the game around" in the middle overs with his wicket-taking ability.
After a couple of underwhelming seasons, Kuldeep seemed to be bowling a touch quicker through the air. He picked up 21 wickets at IPL 2022 and was named the Player of the Match on four occasions.
"Obviously, he had that injury unfortunately in the last IPL, and in fact even without playing any first-class cricket, we got him back into the mix because we see the quality," Dravid said. "He has been a terrific performer. We know that the kind of quality he brings people find very difficult to read. He is a wicket taker. So there are a lot of positives of having Kuldeep in the group.
"Obviously he is one of the really exciting options that we have, along with Ravi Bishnoi who has come and done really well. Yuzi [Yuzvendra Chahal] has really shown his class over the last six months for us and for his IPL team, both the last two IPLs that he has played. Axar [Patel] is again an allrounder. So there a lot of options and sometimes you have to balance out those options as well. But very nice to see Kuldeep back again and bowling. And we know that at times he is someone who can turn the game around with wickets in those middle overs."