Shane Warne planned Andrew Symonds link-up at London Spirit
Warne planned to pay Symonds out of his own pocket with assistant berths already filled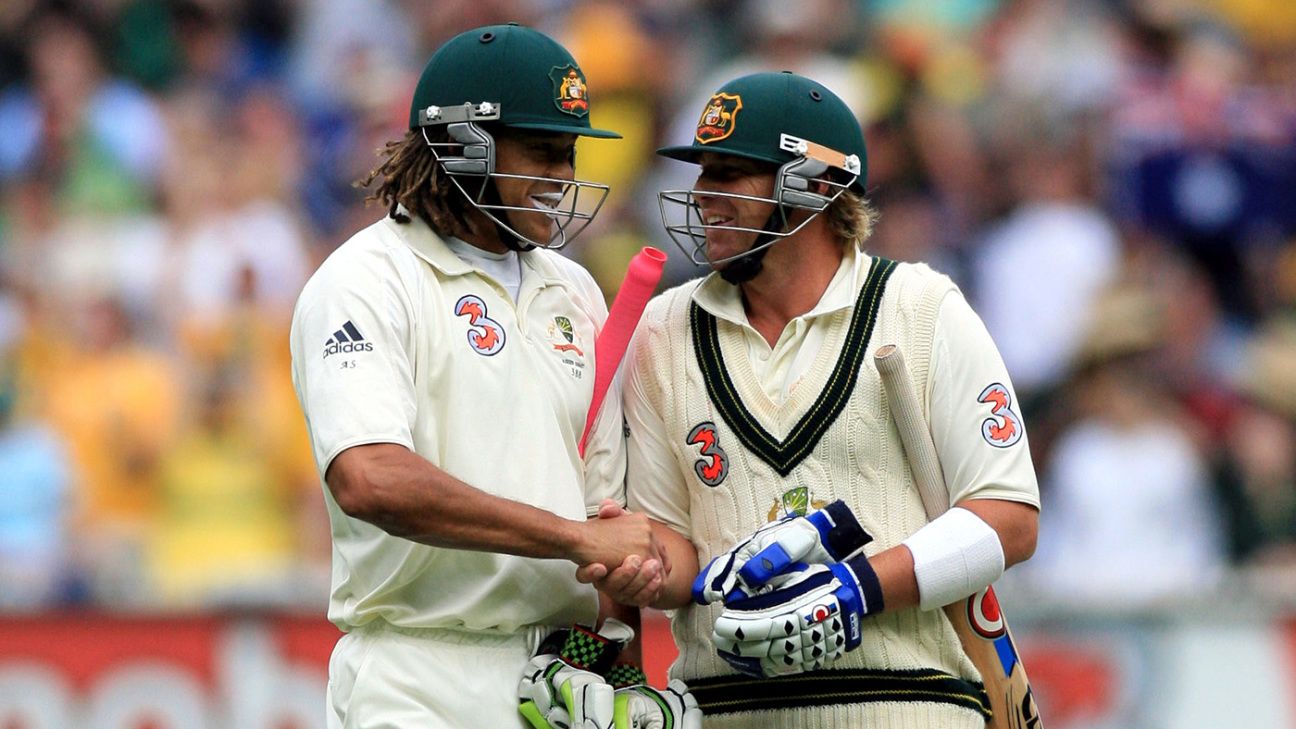 Shane Warne planned to pay Andrew Symonds out of his own pocket to be an assistant coach for London Spirit in the Hundred in 2022.
Warne, who died in March after a heart attack, coached Spirit in the first season of the competition in 2021, though spent most of it self-isolating after contracting Covid-19.
Spirit had already recruited a full team of support staff for the 2022 season when he approached Symonds, his long-time Australia team-mate and broadcast colleague at Fox Sports, to ask if he was interested in becoming an assistant coach.
ESPNcricinfo understands that Symonds later contacted Spirit about the role but he was not expecting to be involved in the Hundred before his death in a car accident on Saturday.
'The greatest cricketer' – Warne farewelled on emotional night

How county cricket remembers Symonds and that T20 knock

Symonds, a player who came from the future

Ponting: Symonds 'an extraordinary player and even better human being'

Bayliss set to take charge of London Spirit
Adam Gilchrist, who played with both men for Australia, told Triple M radio's Rush Hour show: "A little thing that Roy [Symonds] was telling me just last week was that Warnie had been speaking about getting him over to be a fielding coach or an assistant coach at the London Spirit in the Hundred competition over there in England which Warnie was coach of.
"It was only a couple of weeks ago that Roy found out there was no budget put aside for Roy; there was nothing documented in the London Spirit set-up. Warnie was doing that of his own accord and was going to pay Roy the wage that he was going to get for being over there.
"Roy couldn't believe it. That sense of mateship and friendship was everything that Roy built his whole life around – trust and loyalty. Here we are a few days later after him relaying that story to me and he's disappeared. He was loyal to a fault, he really was."
Darren Berry, Warne's former Victoria team-mate, is still due to be an assistant coach at Spirit this year, with Trevor Bayliss since appointed as interim head coach for the 2022 season. "Numbness descends as SKW [Warne] had arranged both Roy and I to be his trusted assistants at the London [Spirit]," Berry tweeted.
"My great mate had told me this during a catch up at the Adelaide Test this summer. He loved Roy and Roy loved him. He was paying out of his own salary to get Roy on board. I just can't yet fathom that I will go to the London Spirit in honour of these two great mates."