Shan Masood drives Derbyshire as top billing is shared in notable double-header
England Physical Disability take the stage in breakout moment for sport's inclusivity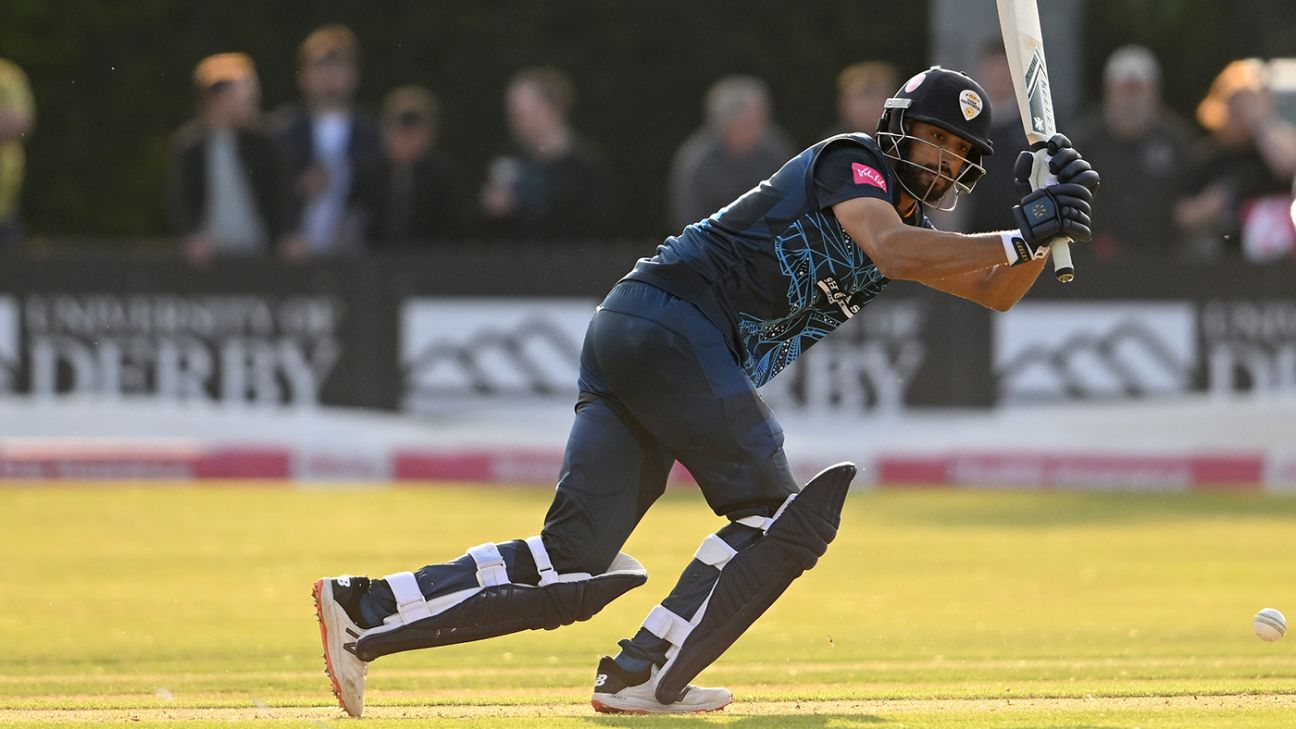 England Physical Disability 168 for 3 (Thomas 68*) beat Lord's Taverners XI 108 by 60 runs
Derbyshire 168 for 7 (Masood 65) beat Worcestershire 129 for 9 (D'Oliveira 55: McKiernan 3-19) by 39 runs
For most of the spectators at New Road today, cricket meant the Rapids and the Falcons; it meant Dwayne Bravo, Pat Brown and Ed Barnard; it meant hoping that the home side could respond to Moeen Ali's comments the previous evening when the skipper had described his side's performance at Northampton as "embarrassing". Those supporters did not get the response they wanted. The team that have contested two Blast finals in the past five seasons cannot take a short-form trick this season. This was Worcestershire's seventh defeat in eight games and their vain pursuit of 169 revealed all the maggoty doubt that infects sides on a desperate streak.
None of which pays sufficient credit to a Derbyshire team who have won four of their eight T20 games this season and who were able to drop three seemingly vital catches yet still win the game very comfortably as Mattie McKiernan's leg-spin engineered a collapse that saw the Rapids lose six wickets for 27 runs in 34 balls. Derbyshire loyalists watching McKiernan bowl Jack Haynes for 35 and then add the wickets of Kashif Ali and Ben Cox will recall this evening fondly. Their side's chances of reaching Edgbaston on July 16 still have all their vital signs in place.
But the perspective of those at the evening's cricket had not been shared by everyone on the ground today. Consider, for example, the various standpoints of 80 schoolchildren from the SEND (Special Educational Needs and Disability) cohort who got the opportunity to practise their cricket with the England Physical Disability team on the outfield this morning prior to the EPD's T20 game against the Lord's Taverners this afternoon. That contest was the first part of a double-header which concluded with this evening's match and it was the first time that a disability team had provided the prelude to a Vitality Blast contest. And who is to say which, in the long run, will be seen as the more important game?
The spectators who thronged the Diglis End this perfect June evening expressed a natural preference, of course. They enjoyed seeing their attack contain Derbyshire to 168 for 7, with even that total swelled by two sixes, one driven, one ramped, in Brown's final over. But they were mightily less enamoured of the loss of three prime wickets in the powerplay, especially as they included Moeen, who was leg before first ball to a fine delivery from Mark Watt, and Colin Munro, who was brilliantly stumped by Brooke Guest off Wayne Madsen when the batsman idly lifted his foot.
"Teams that lose three wickets in the powerplay do not win T20 matches"; so runs the Confucianesque analect of the bright young analysts. And the predictions of the cloistered data-hounds were proved accurate once again. Languishing on 46 for three after their first six overs, Worcestershire looked to have recovered when Haynes and Brett D'Oliveira put on 65 in 41 balls and Derbyshire's twice dropping D'Oliveira seemed to encapsulate a change in the game's weather.
It did no such thing. Haynes tried to pull a ball from McKiernan but was bowled, probably off the pad, and from that moment, Shan Masood's well-drilled attack never surrendered a speck of advantage. Hayden Kerr, Alex Hughes and Mark Watt all conceded less than 30 runs from their four-over spells and D'Oliveira's 43-ball 55 was the only sweetener for a home crowd who have four more home games left to play – or fear – in this year's Blast. Unsurprisingly, the reaction of social media has been pretty harsh, which is not unusual at any of the counties who are used to excelling in this format. The greater the emotional investment, the greater the perceived betrayal.
And yet… and yet…for those who thought the support act was top of the bill today, it was important the Physical Disability cricketers honoured the occasion and they achieved this with something to spare, defeating the Taverners by 60 runs. Liam Thomas made 68 in his side's 168 for three before Callum Flynn's seven-man attack restricted their opponents to 108 for nine. And the broader theme of inclusion and diversity was maintained when Worcestershire gave a debut to 24-year-old Kashif, who was only signed on a short-term contract yesterday and whose wide-ranging cricketing education has included fine performances for the South Asian Cricket Foundation.
Unfortunately for the debutant, the highlight of his match was probably the catch he took at point off Moeen to get rid of Hayden Kerr for only 4; thereafter, he was left, like the rest of those at Worcester, to watch Masood make the 47-ball 65 that provided the foundation of his team's total. Yesterday, the Pakistani opener became the quickest Derbyshire batsman to score 1000 runs in all formats when he reached the landmark in his sixteenth innings. This evening, he struck seven fine fours and a sublime six over long-off in the latest example of his commitment to his side's cause. And the further good news for the county's supporters is that Masood is staying until the end of a season that has not reached its halfway point. There is still everything to play for, although it might not seem like that to Worcestershire's supporters tonight.