Daryl Mitchell, Tom Blundell produce hefty stand to put New Zealand on top
Just one wicket falls after lunch following 23 in the preceding four sessions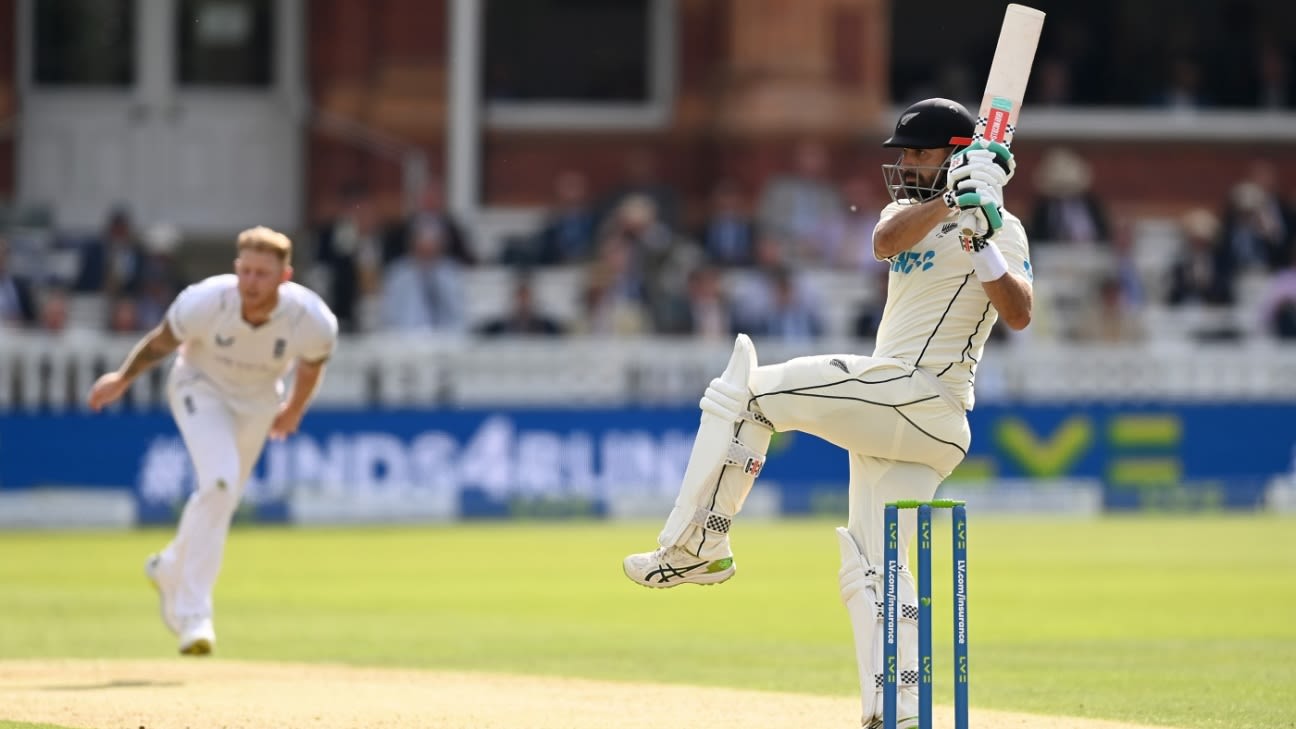 New Zealand 132 and 236 for 4 (Mitchell 97*, Blundell 90*) lead England 141 (Crawley 43, Southee 4-55) by 227 runs
Sometimes the key to success in sport is to calm the nerves, throttle the adrenalin and slow. Things. Down. That is just what New Zealand did during the second afternoon at Lord's, as a methodical, unbroken century partnership between Daryl Mitchell and Tom Blundell helped the touring side take control of a Test that was more like a runaway train for the first four-and-bit sessions.
By the close, New Zealand's fifth-wicket stand stood at 180, three times bigger than the next-highest partnership in the match. No batter had reached fifty before Blundell got there during the evening session, with Mitchell following him in the subsequent over. Their timely show of resistance tipped a see-sawing Test in the direction of New Zealand, after they had been precariously placed on 56 for 4 shortly after lunch.
England were briefly in the ascendant as ball continued to dominate bat during another six-wicket morning session. But although they had managed to eke out a slim first-innings lead, which was followed up by another impressive opening salvo from Matthew Potts, the rest of the day offered Ben Stokes an extended chance to contemplate the challenges ahead for his captaincy.
The wicket of Devon Conway, gloving down the leg side off Stuart Broad, was the only one to fall in 63 overs after lunch, as Mitchell and Blundell applied themselves to mastering both the conditions and the opposition attack. Stokes brought himself on for a sustained spell of short-pitched bowling – similar to the one at Sydney during the Ashes which left him with a side strain and little else besides – and although Mitchell almost fell on the hook, his shot ballooning over mid-on, the tactic caused New Zealand few other alarms.
England's entertainers get carried away with new-found Test zest

Jack Leach withdrawn from Test after suffering concussion symptoms during fielding incident

'Still felt like we were in the game' – Kyle Jamieson on New Zealand fightback

'We're going to throw our punches,' says Matthew Potts after action-packed England debut
Matt Parkinson, the legspinner brought in for his debut as a concussion sub, was also given a first bowl in Tests, although there were rather too many release balls and the closest he came to a breakthrough was when deflecting a Blundell drive into the non-striker's stumps – only for Mitchell to have regained his ground.
Both batters reach stumps within sight of Lord's hundreds, having taken it in turns to slipstream each other through the day. Their resolve was all the more remarkable given what had gone before: namely 24 wickets, one fifty partnership and sundry examples of culpable shot selection.
The last time that both teams had scored fewer than 150 in the first innings of a Test at Lord's was 1954.
Mitchell started watchfully, before switching into a more aggressive mode midway through the afternoon: twice he went hard at James Anderson, the first producing an edge that flew high and wide of the cordon, the second a big air shot. The next over, bowled by Stokes, featured a pair of controlled fours, off the pads and then down the ground.
He continued to drive judiciously, reached his fifty after tea with a nudged single off Broad, and despite a couple of nervous moments grew into the short-ball challenge, twice swatting Stokes for four. Another burst of three boundaries in an over came against Anderson, before Mitchell returned to ticking over as the shadows began to lengthen.
Blundell, too, was happy to grind when required and then pick off the bad ball. Parkinson was taken for four of his 12 boundaries, and he went to his half-century with a flowing square drive off Potts, before whipping Broad flamingo-style through midwicket. Never mind the flourishes, the substance of Blundell's contribution was comparable to that of his predecessor as wicketkeeper, BJ Watling, whose firefighting qualities were so valued by New Zealand.
Such surety seemed a long way from the rolling chaos of the second morning at Lord's, as wickets continued to tumble. The debutant Potts struck twice, removing Kane Williamson cheaply for the second time in the match, as New Zealand stuttered again with the bat after completing a resurgent display with the ball.
It only took 35 minutes for New Zealand to wrap up England's first innings, claiming the last three wickets for the addition of 25 runs, but they were still in arrears when, for the second day in succession, Anderson found Will Young's outside edge with the first ball of his second over – Ben Foakes this time completing the dismissal with a diving grab.
Williamson and Tom Latham, New Zealand's two most-experienced batters, briefly drew the sting of opening spells from Anderson and Broad, before the introduction of Potts sent the visiting dressing room scrambling once again.
Williamson had survived an edge off Anderson that landed inches short of second slip, but he soon fell to Potts' nagging examination outside off. The Durham seamer struck with his fifth ball in the first innings, but this time was made to wait until his eighth, Williamson taken comfortably at third slip aiming a back-foot punch. Potts then removed Latham in his next over, grazing the outside edge so gently that neither the batter nor Foakes behind the stumps were convinced – but DRS confirmed Rod Tucker's decision.
England resumed on Friday still 16 runs behind on first innings, having suffered a dramatic collapse on the first evening. They were eight down in the second over the day, Broad bowled by Southee two balls after pumping him for four through mid-on, and that became nine when Foakes was lured into dabbing to slip, with England still two runs short of parity.
Anderson brought the scores level with a push down the ground off Trent Boult, and there were ironic cheers when Parkinson's flick for two put England into the lead, as well as earned him his first Test runs. Parkinson, who was handed his cap in the dressing room before play by Jeetan Patel, managed one nicely timed drive for four before steering Boult to first slip. At that stage, it was doubtful whether his bowling would be required, but the grit shown Mitchell and Blundell banished any such thoughts.