Dogged Nick Browne provides platform for Dan Lawrence ton before Lancashire hit back
Four wickets late in the day help wrest advantage away from Essex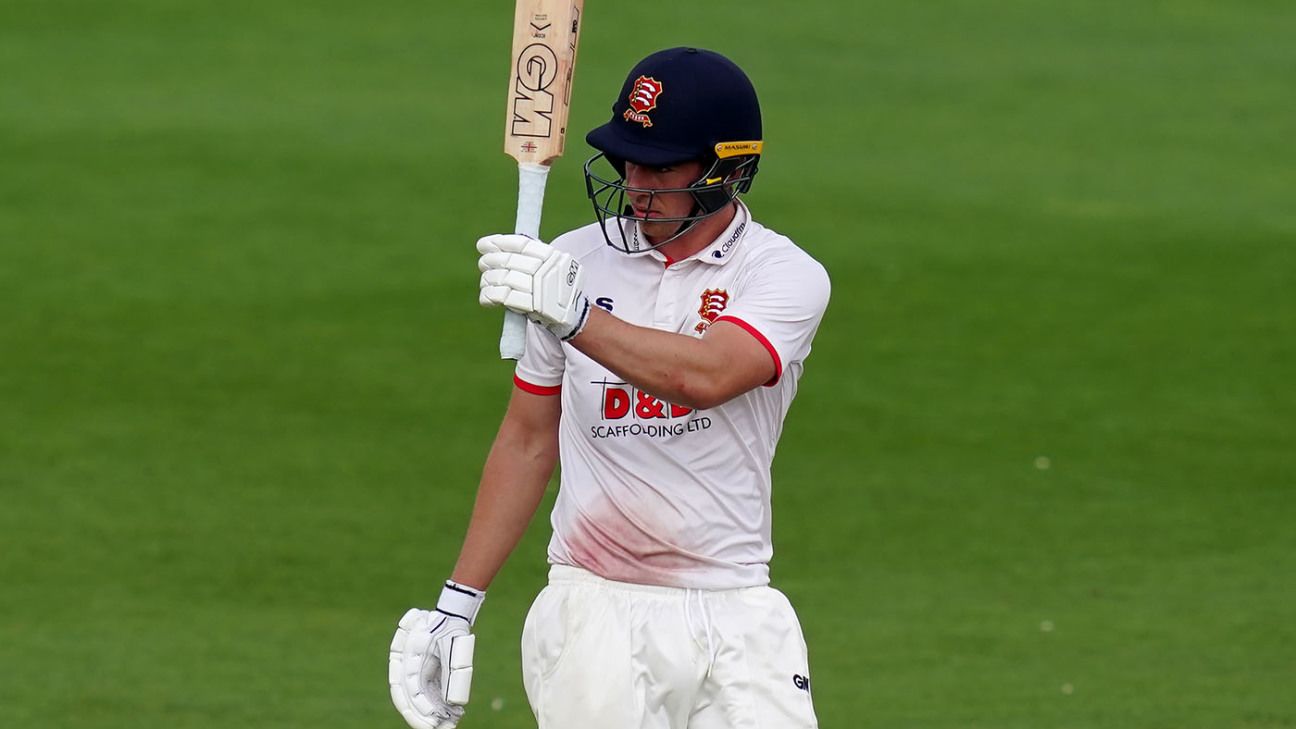 Essex 280 for 7 (Lawrence 100*, Browne 71) vs Lancashire
Reports suggest that Essex's home match against Yorkshire would have bored the bollocks off a bison and the potted scores reinforce the impression: 403 and 167 without loss plays 465 hardly indicates an orgy of attacking cricket ending in a headboard-rattling climax.
But Nick Browne got some satisfaction from it all. Before his second innings in the game at Chelmsford, the Essex batsman had managed 68 runs in eight innings. So Browne was mightily relieved that sober-suited Sunday to face 178 balls and make 50 not out in 200 minutes; and no doubt his quiet pleasure was shared by colleagues who know how important their opener's contributions can be. Eleven days on from that tedium, Dan Lawrence, in particular, appreciated that innings' value on this opening day at Emirates Old Trafford. For Browne weathered the first new ball and thus created the conditions whereby Lawrence could mark his return from a hamstring injury with a fluent unbeaten century of which the England selectors will take note.
And the value of Browne's 71, which was ended on in freakish fashion in mid-afternoon, was made even clearer in the final hour or so of the day's play as the Lancashire seamers made excellent use of the second new nut to take three wickets and also induce a nervous brain-fade from Lawrence who ran out Adam Rossington by the sort of distance normally seen in the Foxhunters' Chase at the Cheltenham Festival.
In fairness, Lawrence was on 99 at the time but that dismissal was all of a piece with the frantic period that saw Lancashire make four breakthroughs, the last of which was Simon Harmer, whose second delivery was one of the snorters of the season from Luke Wood, a vicious lifter that Harmer could only glove to Phil Salt. When the new ball was taken, Essex were 227 for 3; at the close they were 280 for 7. Lawrence is there still but this is a different game now. Yet again, Lancashire's bowlers won some battles and found a way to wrest something from a day that had looked unpromising.
The opening of our day featured other duels, one of them rather venerable. James Anderson and Alastair Cook are former England colleagues and firm friends. So there were no scores, however gentle, to settle when Anderson bowled to Cook this morning. There was, however, a total to build on a fresh pitch and the opener's contribution to that effort was a negligible couple of runs. But it was Tom Bailey, not Anderson, who took what is still Essex's most-prized wicket when he straightened a ball just enough in the ninth over to take the thin edge of Cook's bat. Salt completed the dismissal and Bailey duly forgot the confident leg-before shout that had been turned down just two balls previously.
The morning session brought Lancashire no more joy. Hasan Ali had been awarded his Lancashire cap half an hour before what will be the final game of a successful seven-week stint at Old Trafford but Browne marked the occasion by twice cover-driving the Pakistani fast bowler for four. And the solid progress suggested by 71 for 1 at lunch was verging on affluence half an hour into the afternoon session after Browne had hit four fours in the space of 18 balls. Perhaps Tom Westley became a little giddy with all this. Or perhaps he thought slog-sweeping a delivery from Parkinson that pitched something like 18 inches outside the off stump was a risk worth taking. In truth, there was more slog than sweep about the business and Salt caught the top-edge to remove Westley for 30.
Browne, though, batted on in the manner of a man proceeding in policeman-like fashion to his destination and unwilling to be distracted from his commission. The first goal, of course, was three figures but the opener did not get there. After ducking a series of bouncers from Anderson with apparent ease, Browne punched the same bowler very firmly at Dane Vilas, who was fielding at silly point. The Lancashire skipper clutched the ball to his groin in triumphant agony and thereby achieved a passable, if unintentional, imitation of the sign that used to hang outside a pawnbroker's shop in the era before cash converters.
The day's baubles still appeared likely to belong to Essex, though. Lawrence's return to competitive cricket was helped by some uncharacteristic long-hops down the leg side from Matt Parkinson and he had put on 97 with Paul Walter when Lancashire grabbed the second new ball the moment it became available. Most of Lawrence's fours had been scored behind the wicket but there was no discredit in that. He looked to be piloting his team to a position of dominance when the excellent Bailey bowled Walter and had Matt Critchley caught behind in the space of four balls.
Immediately the temper of the match changed. Anderson induced an edge from Lawrence on 71, only to see the ball fly between first and second slip. The latter fielder, Keaton Jennings, then dropped Rossington on 5. Lawrence, meanwhile, was cruising smoothly towards the century he only reached when he had sold Rossington down the river. Lancashire had lost two sessions of this day fairly comfortably yet still ended the piece more or less level. It is the mark of sides that win things.