Simon Harmer, Sam Cook leave much-fancied Lancashire dancing for rain
Essex need one more wicket on final morning after enforcing follow-on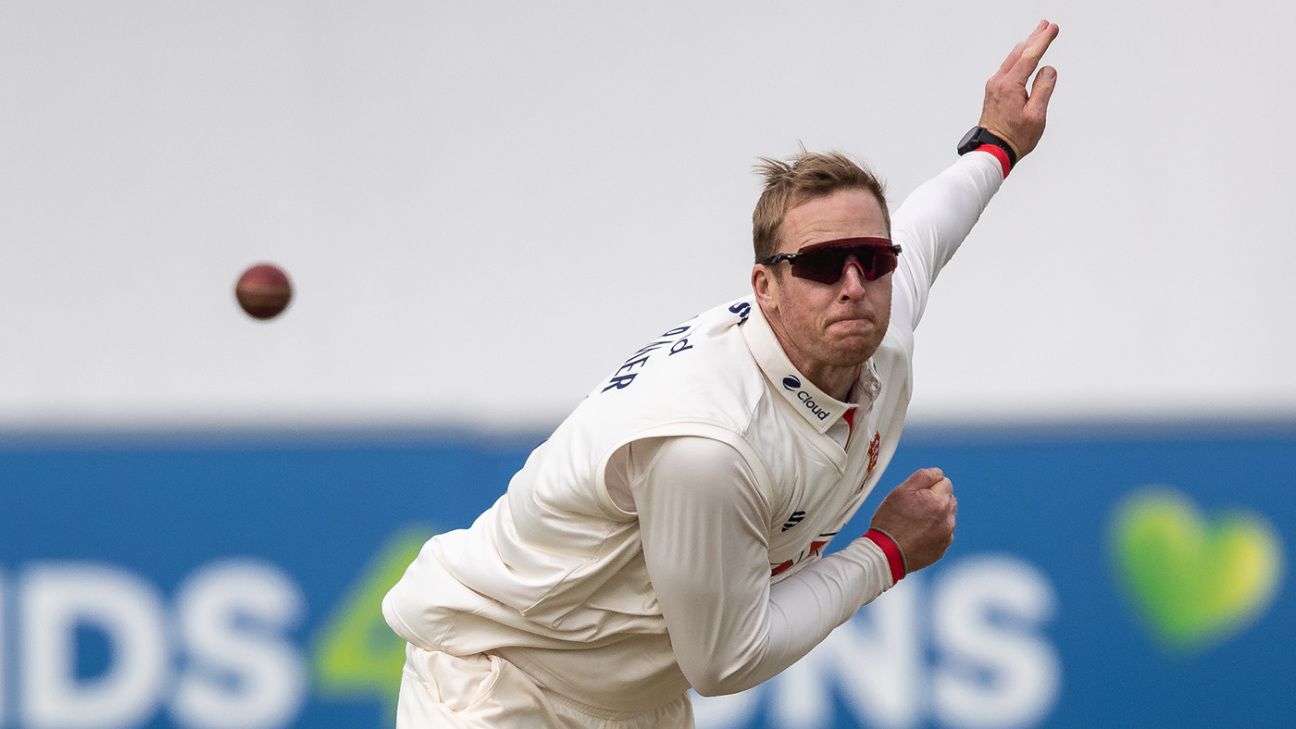 Lancashire 103 (S Cook 4-18) and 213 for 9 (Vilas 62, Harmer 5-85) trail Essex 391 by 75 runs
In the opening weeks of this season a few people of good judgement appeared to assume Lancashire were going to win the County Championship. This match has offered a powerful corrective to such weirdly confident views. For whatever the vagaries of Manchester's weather – and the forecast is for rain – Lancashire have been quite outplayed in this game and had Essex managed to take one more wicket this evening, Emirates Old Trafford would resemble the Marie Celeste tomorrow. Instead, it is all aboard for a short voyage on the good ship Chappie.
None of which should obscure the memory of an Essex team that has brimmed with confidence and dynamism these three days. After enforcing the follow-on – the first time Lancashire have suffered this indignity since 2017 – Tom Westley's bowlers took seven of their opponents' second-innings wickets and claimed an extra half-hour in the hope of completing their victory today.
Tom Bailey and Hasan Ali obligingly holed out in the deep to leave James Anderson defending stoutly against Simon Harmer in the hope that it will hose it down for hours. "I just love this game and I don't understand it at all," a member of Lancashire outstanding live-stream operation said.
Northants still fighting to avoid follow-on despite Vasconcelos, Procter knocks

Notts set up final-day run chase after Derbyshire resistance

Roland-Jones sets up Middlesex's final-day victory push

Jordan Thompson's new-ball burst prompts Warwickshire shiver of realisation

Barker's half-dozen leads Hampshire to victory as Somerset fold
Harmer, on the other hand, understands cricket's engaging eccentricities all too well. He knows that it can treat you "dreadful crool", as Eliza Doolittle might say, and that he has probably deserved more than the six wickets he has bagged from the season's opening five games. Today, an Old Trafford pitch that offered sufficient help was just what he might have ordered to revive his season and he filled his rather large boots with figures of 5 for 85 from 40 overs.
One or two Lancashire batters, notably Dane Vilas, took the attack to the South African Test offspinner but no-one played him with certainty. Vilas, who made 62, perished lbw on the back leg in a chaotic last hour that saw five Lancashire wickets go down. Matt Parkinson and Hasan also succumbed to Harmer's flight and spin but Anderson and Luke Wood stood firm as the home dressing room hummed with the apocalyptic predictions of amateur meteorologists.
And yet, if Lancashire survive, it will be a Dreyfus-esque injustice. For most of the morning – indeed, for most of the game – things have proceeded much Westley might have wished. You will recall that Lancashire resumed, hale and hearty, on 32 for 5. Wood then hit a couple of fours before edging a drive to Adam Rossington off Sam Cook, who also had Bailey lbw in his next over. Hasan survived two balls before edging Shane Snater to Harmer at second slip and Lancashire then needed another 11 runs to avoid posting their lowest total against Essex in the 125 years it has taken the sides to play 161 matches.
Their minds uncluttered by such minutiae, Phil Salt and Parkinson put on 43 in 14 overs with Salt pulling Snater into the temporary stand for six. But it was a reflection of Essex's command in Lancashire's two innings that losing the ball, either in the building site or the seating, was more or less their greatest inconvenience. Otherwise, events unfolded roughly as they willed them.
After making 44 in two hours Salt was leg before to a ball from Matt Critchley that seemed hurry on off the pitch in the manner of a topspinner. Next over, Parkinson smeared Harmer to the sub fielder, Aaron Beard at deepish square leg and Westley opted for traditional orthodoxy rather than the left-field funkiness when it came to enforcing the follow-on. Then again, the humiliation inflicted on opponents by asking them to have another go is probably underestimated. It certainly seems so this evening.
You're a joy to watch, @samcook09.

13 overs, 5 maidens, 18 runs, 4 wickets pic.twitter.com/sUSFZ7Jmfw

— Essex Cricket (@EssexCricket) May 21, 2022
Luke Wells and Keaton Jennings patted back four maidens before lunch but it was no sort of omen. In the second over after the resumption Jamie Porter got one to straighten past Jennings' outside edge and knocked the opener's off pole out. Jennings looked studiously at the pitch as though he was thinking of writing a learned article about a game he had entered with an average of 174 and was now leaving with it more or less halved to 88.
"Oh my God!" exclaimed someone to the left of the press box and one doubts it was an outpouring of evangelical witness prompted by the sight of Josh Bohannon striding bandily way out to the middle. Perhaps it was the more prosaic realisation that this was the first time Lancashire's No. 3 had batted in the second innings of a match this season.
Vilas' players have had a lot of time in the field over the past six weeks or so but their dominance of matches has led to virtually the entire team needing to bat once in each match. To a degree, this is fine, of course, but it has also led to batters like Bohannon having limited opportunities to face high-quality spin on wearing pitches.
Those who advocate reducing the number of first-class matches might reflect on these factors. Even in a freakishly dry spring Bohannon will get to mid-June having played seven red-ball innings; the last of these lasted an hour before he gave a bat and pad catch to Nick Browne at short leg off Harmer, who, it seems, can dismiss Test batters while reading his morning newspaper. Certainly no-one played him with much confidence today. The extravagantly offered front pads, the hurried defensive prods and the edges through the slips all said the same thing.
So just as one might expect, the next Lancashire wicket fell to a seam bowler and owed everything to a batter's error. For after defending solidly for nearly two hours, Wells pulled a short ball from Cook straight to square leg, where Paul Walter took a good tumbling catch near the ground. Wells nearly keeled over, too; no current batter is more aghast at the death of his innings. He held the bat close to his face and then began his funereal trudge home.
Croft and Vilas then put on 78 for the fourth wicket but Westley throwing the ball to Harmer and waiting for the error. It came when Croft, having battled away for 39, top-edged a sweep to Cook behind square. Salt made a pleasant 31 on a day when pleasant 31s were nowhere near Lancashire's requirements. He fell, caught at the wicket, off Critchley and a three-day finish became possible, then probable, then almost certain.
But no. Anderson blocked Harmer's fifth ball and checked his guard. The clock ticked over to seven o'clock. We're all back tomorrow.