Bishop 'really impressed' with Powell's power, new scoring areas, maturity
"I don't want to compare him to anyone just yet, because I still think there needs to be more time shown by him suc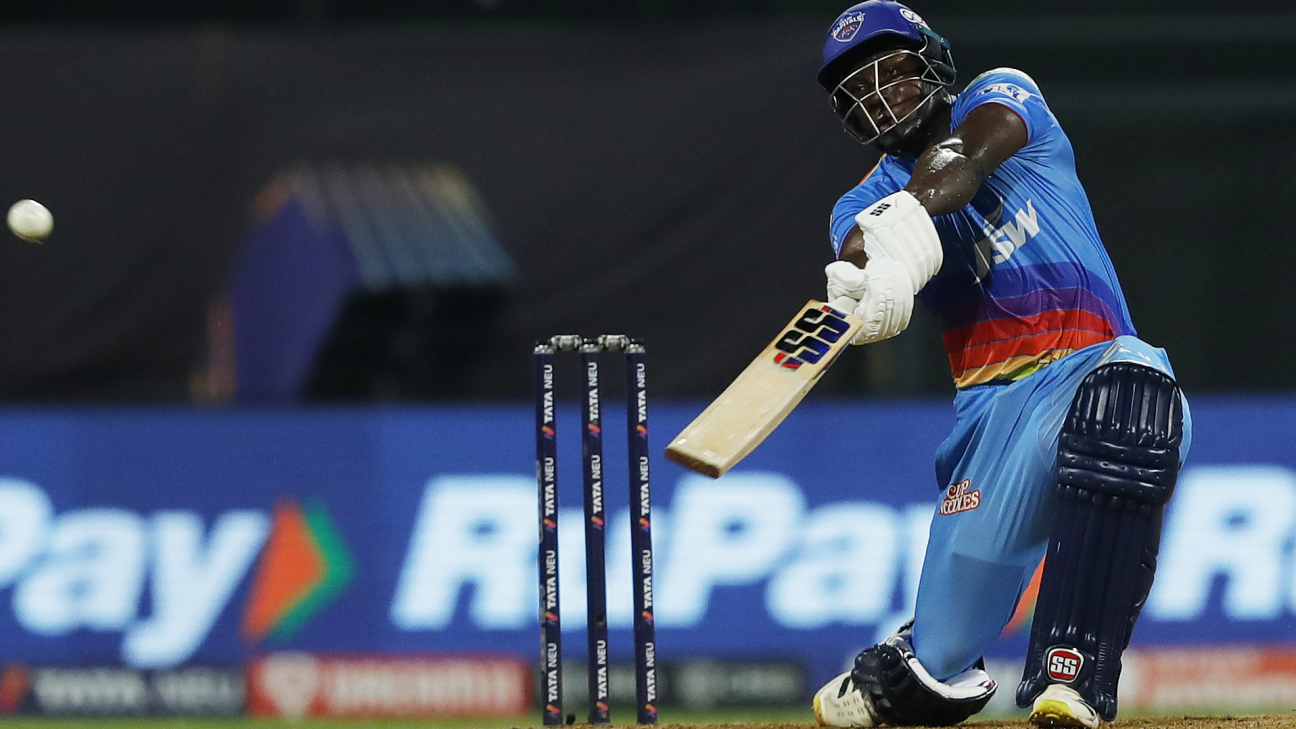 Among the latest players to catch Ian Bishop's eye is West Indies and Delhi Capitals' explosive middle-order batter Rovman Powell, who Bishop believes has "matured" and evolved to become a "versatile" batter.
Talking on ESPNcricinfo's T20 Time:Out, Bishop said the biggest improvement he noticed in Powell's batting was how he has confidently dominated spin bowling this IPL. Another significant area, something Bishop revealed even the West Indies' team management had been impressed by, was the way Powell has walked into the matches and quickly assessed the situation before "exploding".
"[He is] a much-improved batter who has power, which is a critical thing, who is opening up different scoring areas in his game," Bishop said. "Previously I would say he was very on-sided, now he's showing the ability to hit the ball through the off side. And that awareness that my colleagues have been speaking about – is sort of rounding off his education as he's matured. I rate him highly. I think he's versatile. He's playing spin a lot better.
How Rovman Powell grabbed his cricket ticket out of poverty with both hands

Rovman Powell: 'I just told Rishabh to trust me at No. 5'
"He can go in, he can assess the situation, absorb some pressure and then explode, instead of a guy who can go in and only bat in one gear and so, I'm really impressed. I don't want to compare him to anyone just yet, because I still think there needs to be more time shown by him success-wise before we start putting him into a specific category."
While Powell strikes at 115.97 against spinners in T20s, he shifts gears when he takes on fast bowlers, with his strike rate rocketing to 153.43.
Powell is still not striking big against spinners in this IPL season, but he has tried playing them out. He has faced 50 deliveries of spin, scored 61 runs, with just one four but six sixes, and has been dismissed by them twice in eight innings. Powell showed this in the match against Lucknow Super Giants, when he faced back-to-back overs of Ravi Bishnoi and K Gowtham.
In their big win against Sunrisers Hyderabad, following his 35-ball 67, he revealed that he chatted with Rishabh Pant, the Capitals captain, and told him to "trust me at No. 5 and my game against spin".
Bishop feels that Powell has not only levelled up his spin game but has also shown more discipline against short deliveries.
"I'll tell you, first of all, where he's become better – against spin. We, as broadcasters, we sit during or before or after games and sort of diagnose a player and any time a wristspinner came on, Rovman had no idea where it was going to go. The talk around the Caribbean was, 'Oh, Rovman's gone as soon as a wristspinner came, or anyone who could shift the ball in both directions'.
"The short ball used to cause him a lot of trouble. In fact, there are a lot of people who still think you bowl short to him above a certain pace and he's very susceptible to it. I am seeing an improvement against spin and seeing an improvement against the short ball. I still think he has to open up a little with his off side game and be more assured against the short ball – as to when to go for the hook and when not to go for it, and of course a little bit of polishing."
Bishop on Powell: 'He is versatile and playing spin a lot better'
Powell made his T20I debut in 2017 and has featured regularly in the West Indies squad since then. Inconsistent performances and a poor run in the Caribbean Premier League led to him missing out on a spot at the 2021 T20 World Cup. But he has been trying to make his case in the format.
Powell scored a 53-ball 107 in the third T20I in the home series against England in January this year and an unbeaten 36-ball 68 against India in Kolkata in February. He also impressed in the Abu Dhabi T10 league in December, scoring 305 runs at a strike rate of 191.82 in ten matches.
In the IPL 2022 so far, he has scored 205 runs at a strike rate of 161.41, mostly batting at No. 6. Bishop believes that Powell's success in the IPL would elevate his role in the West Indies white-ball team.
"It will do him the world of good. If we go back to a little period when he played in the UAE after the T20 World Cup last year, he had a lot of success there – high strike rate, nice volume of runs. He talked working on his game just prior to that and seeing the benefits he went to Pakistan to find consistency, and then in the series in the Caribbean, he scored a hundred against England. There was confirmation of all that he had said about working on.
"Now coming to the IPL, the first few games of course the numbers showed – it wasn't what he wanted but they stuck with him. I got a message from someone in the West Indies camp, and they said the thing they were impressed with [about Powell] in the tournament so far was the last four games, the awareness of the situation and playing the situation of the game and then being aggressive."
Bishop believes Powell's no-nonsense attitude would make him a good leader, adding that he needs to show consistency in his performances before he is given such a role. Apart from leading Jamaica Tallawahs several times before being made the permanent captain in 2021, Powell has also led West Indies in three ODIs in 2018, in then-captain Jason Holder's absence.
"He definitely has leadership qualities. He has led his franchise in the Caribbean Premier League. He's touched leadership with his home country in domestic cricket, and in the UAE as well in T10 cricket, how much ever value you can place on that. So I know he is regarded as a leader, as a no-nonsense guy in the dressing room, who will tell straight up. And he's been around long enough to understand the game. I am sure they will be looking at that but first of all, he needs to continue being consistent, which is one of the things he'd been lacking before let's say the last year and a half."