Kane Williamson relishing return as he insists elbow will stand up to the Test
Captain back after missing home summer, but form still a concern after fallow IPL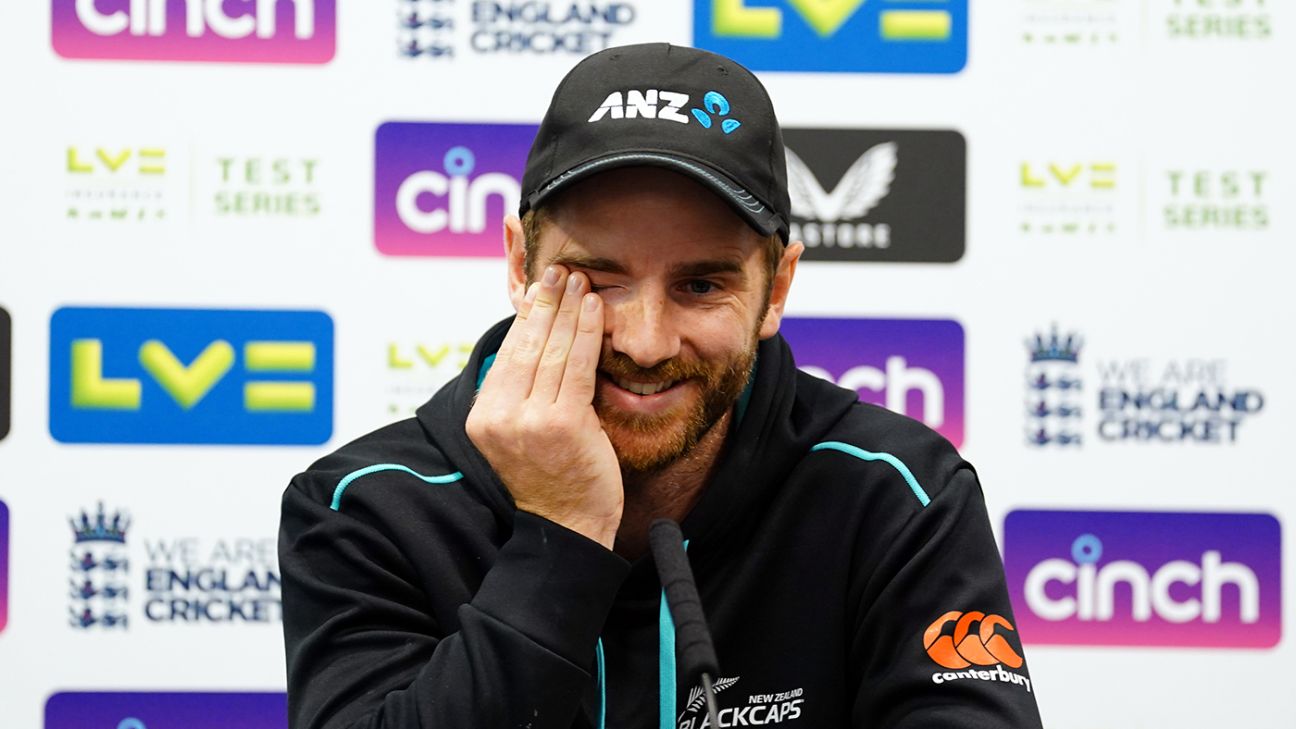 Kane Williamson, New Zealand's captain, insists that his troublesome left elbow will withstand the rigours of Test cricket as he prepares to lead his side for the first time in six months in the first Test against England at Lord's on Thursday.
Williamson has missed New Zealand's last five Tests due to a tendon injury similar to that which afflicted Sachin Tendulkar in the middle years of his career, with Tom Latham deputising for the final Test of their tour of India in December as well as all four matches of their home summer series against Bangladesh and South Africa.
During that period, the NZC medical team limited Williamson's practice sessions to 20-minute blocks, leading him to acknowledge that the injury had been a "tough pill to swallow" and that his preferred remedy might have been to "cut it off". However, speaking at Lord's on the eve of Thursday's first Test, he insisted that his time away from the game had helped him to manage the condition better.
Southee: 'The Kiwi way is to muck in and get the best out of what we've got'

Williamson duck, NZ skittled to open door for County Select XI

Potts to make England debut at Lord's

England's chance to walk the walk against transitioning NZ

Stokes wants 'blank canvas' not 'reset' as England begin new era
"It's significantly improved, which is the pleasing thing," Williamson said. "Obviously having that time out of the game was beneficial to get it back on track somewhat. Although it was a very frustrating period of grappling with it, it is nice to be back into full training and back into cricket really, which is really exciting, and back with the team after watching them on the sidelines for a little bit. So that is nice to see that improvement."
Williamson's form, however, hasn't yet ignited since his return to action. He endured a difficult IPL campaign for Sunrisers Hyderabad, scoring 216 runs at 19.63 and a strike-rate of 93.50 before returning to New Zealand for the birth of his child. His solitary red-ball innings since November was a nine-ball duck against a County Select XI at Chelmsford last week, as his side slumped to 19 for 6 in their second innings, en route to a seven-wicket loss.
He's not the only New Zealand player who is likely be a touch undercooked for Test cricket. Devon Conway, Daryl Mitchell and Tim Southee were also late arrivals following IPL duty, and so too Trent Boult, whose participation in Sunday's IPL final for Rajasthan Royals means he only arrived in England on Monday, and seems likely to be held back for the second two Tests at Trent Bridge and Headingley later this month.
Trent Boult arrived in the UK on Monday night after the IPL final
•
Alex Davidson/Getty Images
"He needs to get through training today," Williamson said. "Obviously he's just arrived. He's keen as, but there's a number of things to consider.
"Trent is obviously a world-class player and we've got a great variety in our bowling attack," he added. "So, we'll be having a look at the surface and working out what we want to go with, and that balance, and who's all ready to go. Most are, but obviously Trent's one to look at today."
It is almost 12 months since Williamson's New Zealand lifted the ICC mace with victory over India in the World Test Championship final, having also dispatched England 1-0 in a two-match series that began at Lord's. Their results since then haven't been quite as stellar, with defeat in India followed by two drawn home series, but Williamson insisted that the fulfilment of their global ambitions hadn't taken the edge off his team.
"That was an amazing occasion and a proud achievement for New Zealand cricket," he said of the WTC final. "When you're involved in a side, your motivation is about trying to move the team forward and, whether that's in different matches that have different context, the motivation is still there. Everybody wants to win. Whether you have a certain number next to your name or not, it's always competitive.
"You always have different transitions," he added. "Since then, there's been a number of players that have retired [notably Ross Taylor and BJ Watling], and that's just part of that big picture. So although they're fond memories, and it wasn't all that long ago, you certainly don't rest on matches that were played a year ago."
The current series will have an added sense of intrigue due to the identity of England's new head coach. Brendon McCullum was Williamson's predecessor as New Zealand captain, and the man credited with defining the philosophy that has carried the current team to its success across formats, but Williamson insisted it wouldn't be "weird" seeing his friend and countrymen guiding the fortunes of his opponents.
"It's a great opportunity for Brendon, such a positive guy and an amazing leader as well," he said. "He does tend to have a strong impact wherever he goes. And clearly the English set-up have seen some strong qualities in him that they want as a part of their set-up. So yeah, it's exciting. I think Dan [Vettori] might be involved with Australia, so there's a real Kiwi feel to the next Ashes series, which is pretty interesting.
"We're good mates. And he's mates with a number of the guys and there's a lot of history there. But you know, cricket's cricket, so for us, it's focusing on what we want to do. No doubt they'll be working hard and Brendon will be certainly getting right in the mix of things to do what he does, but at the end of the day, it's going to be an exciting contest and one that both sides are looking forward to."