Finch: 'Incredibly challenging' to remove double-headers at single venue due to logistics
Australia captain does not feel it is an option to avoid rain scuppering consecutive games as happened in Melbourne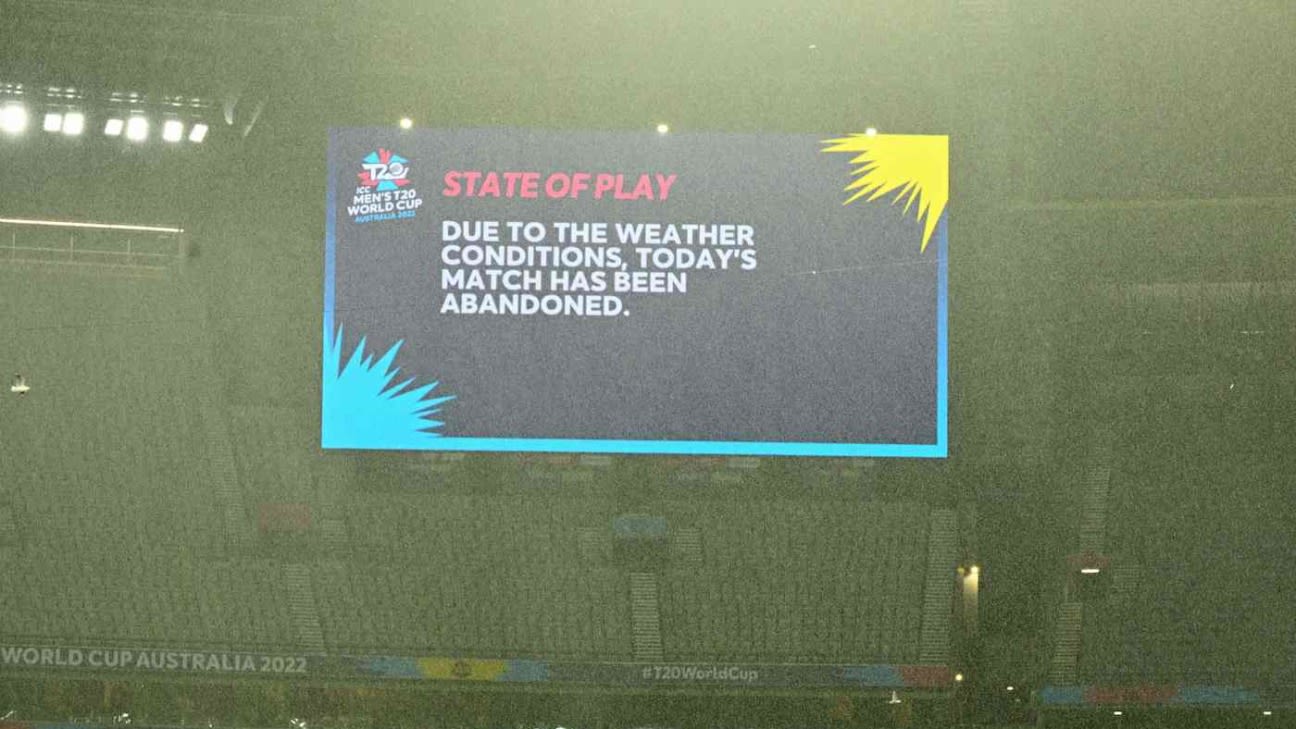 Aaron Finch has pondered whether removing double-header match days at a single venue would be a worthwhile option to avoid rain scuppering consecutive games as happened in Melbourne although conceded the logistical challenges of staging a World Cup were vast.
The Australia-England contest at the MCG was abandoned, a decision that had felt inevitable for much of the day as the outfield became unplayable with the first match, Ireland against Afghanistan, having already been called off. It meant there had been three abandoned games in Melbourne following the loss of the New Zealand-Afghanistan fixture.
Aaron Finch acing verbal volleys but needs his bat to do the talking

Buttler frustrated by Eng-Aus washout but insists 'right call' was made

T20 WC scenarios: England, SL and Afghanistan cannot afford washouts
While New Zealand's match against Si Lanka was played in glorious Sydney weather on Saturday as was Bangladesh against Zimbabwe in Brisbane on Sunday, the weather threatens to again play a part in the coming days.
The forecast for Australia's crunch game against Ireland in Brisbane is promising with only a small chance of a shower. But Tuesday, which is another double-header day where Sri Lanka face Afghanistan and England play New Zealand in the city, has a forecast of 100 percent chance of rain and up to 35mm falling. Adelaide, where the tournament travels next week, is forecast to be cool and showery although the early indication for the game days is more encouraging.
"I think with how condensed the schedule is, it's really difficult to have reserve days for round games," Finch said. "Saying that…it's kind of interesting when you have back-to-back games in the same city, if one is washed out, we saw the other night then both get washed out, whereas if they're in different cities, you potentially get one game on. Is that an advantage? I don't know.
"All I know is a lot of planning and effort goes in from the ICC to make these tournaments go ahead, and they're extremely difficult to navigate through all the logistics and stuff as one nation, let alone controlling it for…16 teams. That's an incredibly challenging position to be in."
The tournament is being staged early in the Australian season with previous World Cups in the country hosted in the February-March window. The east and south-east of the country is also feeling the effects of another La Nina, with Melbourne being especially badly hit with record-breaking October rainfall.
It has not gone unnoticed that in Melbourne, just across town from the MCG, there is a ground with a roof which has raised the notion of whether Marvel Stadium, which is Melbourne Renegades' home ground in the BBL, could have been used as an alternative venue, but the logistics of moving games mean that it is virtually impossible to do at short notice.
"It's not just as easy as seeing the forecast and moving a wicket over there," Finch, who plays for Renegades, said. "There's a lot more that goes into it than that. But that has been an absolute belter of a wicket for the last couple of years of Big Bash. I'm sure there are reasons behind it all."
Melbourne will host two more matches in the tournament: India against Zimbabwe during the final day of group games on November 6 then the final on November 13. Extra standing-room-only tickets have been released for the India game which is expected to attract another huge ground after the 90,293 who attended the India-Pakistan game. It is currently the only game on the ground to be completed without rain.