Anrich Nortje not getting carried away by the pace in Perth
"We see ourselves as one of the best pace attacks there is," says SA seamer ahead of the India clash in Perth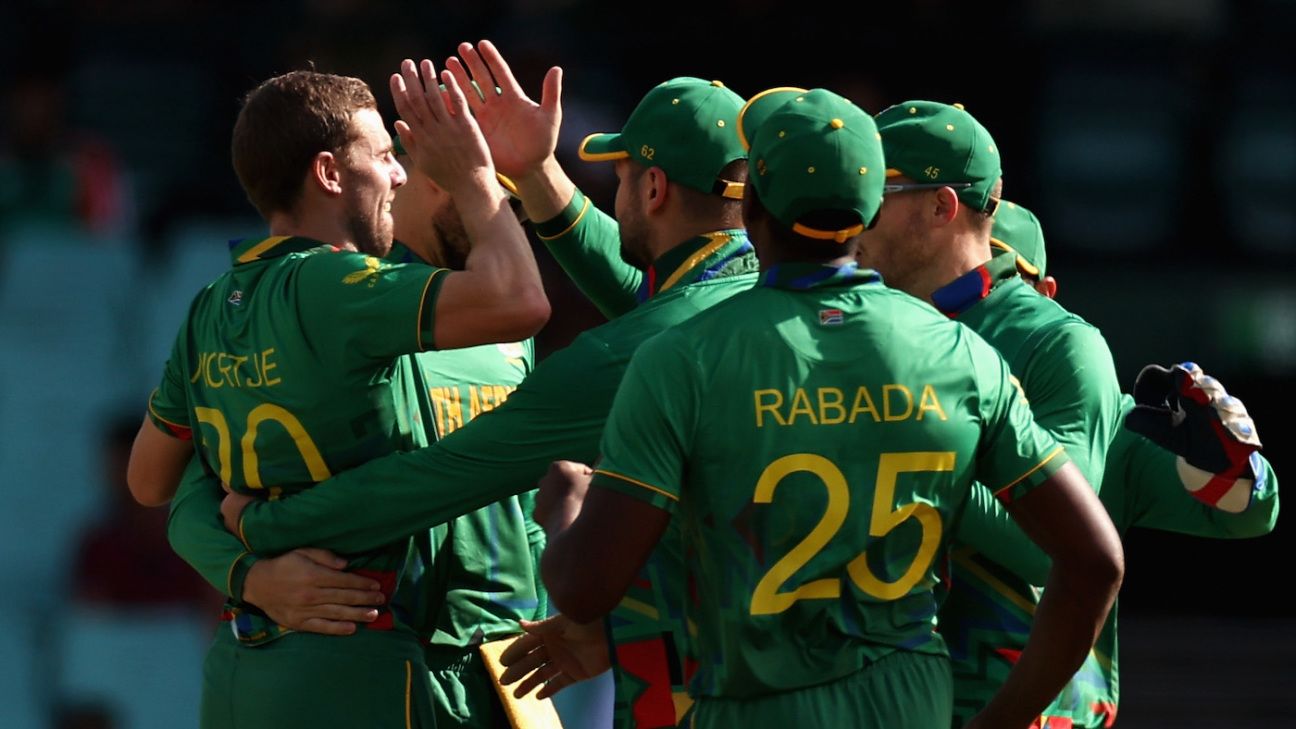 Even though Optus Stadium's green-tinged surface conjures pace and sharp bounce, characteristics that are well suited to them, South Africa's speedsters have been urged to be restrained as they contemplate loading up with four quicks against India in a blockbuster T20 World Cup clash.
Apart from a stunning onslaught against Sri Lanka from Australia allrounder Marcus Stoinis, a local Perth lad, seam bowling has dominated the tournament's previous three matches at the 60,000-seat stadium.
Quicks Mark Wood and Haris Rauf have lit up the pitch with rapid bowling, clocking over 150kmph/93mph, while the powerplay has been marked by menacing swing making batting quite difficult amid fairly low-scoring games.
Bowling riches leave South Africa with good headache ahead of T20 World Cup

Rossouw ton, Nortje four-for help South Africa demolish Bangladesh
While it's tempting to unleash all-out fury, bowling too full or short at the ground is usually an unsuccessful recipe as Pakistan's quicks found out during the powerplay against Zimbabwe before adjusting.
South Africa have taken note. "There's lots of pace and bounce. We are going to identify what is a good line and length and stick to that," said quick Anrich Nortje. "Try not to do anything too fancy. Try to stick to our basics…restrict runs as much as possible. As basic as we can be."
Unleashing the short ball, a particular weapon for Nortje who can consistently bowl at 150kph / 93mph, will need to be used appropriately.
"Hopefully in the future, we can bowl two bounces an over. But when you've got one bouncer, you have to time it properly. Not to get too carried away. Sometimes it can look nice but it's not effective," he said, "Try to be calm in situations when adrenaline is flowing."
While Nortje wouldn't engage in possible selections, South Africa will ponder whether to insert Lungi Ngidi and left-armer Marco Jansen and unveil a four-pronged pace attack.
Whether or not they drastically change their attack, having played on the slower SCG pitch in their easy victory over Bangladesh, Nortje believed South Africa were well-equipped across the board.
"We see ourselves as one of the best pace attacks there is, so we'll back ourselves against any team," he said, "We've got great variety, cover a lot of bases. We've got two gun spinners as well."
Inclement weather in Australia's east coast has caused havoc for the tournament, marked by two washouts in Melbourne on Friday, and more could be ahead.
While Perth's weather has been unpredictable, which is not unusual in October, with bleak clouds hovering over Optus Stadium on Saturday, fine conditions are expected for Sunday's double-header.
With no threat of rain, the stakes have been raised with the winner of India and South Africa on the brink of securing a semi-final berth.
"There are possibilities of other games being rained out," Nortje said. "We can just try and win all of our games and make it easier for ourselves. We can't bank on other games being rained out."
After an abandoned opener against Zimbabwe, South Africa were left pondering whether their jinx, often due to rain, in major tournaments would continue but a 104-run thrashing of Bangladesh provided a tonic for a team confident of belated silverware.
"The guys have been together for such a long time. Everyone knows where they fit in," Nortje said. "Guys have been really gelling well. Hopefully we can win the cup. I think it's a really good team."