Ervine: Zimbabwe have 'huge chance' to reach semis but can't get complacent now
"It requires us to win against Bangladesh and also to beat Netherlands, but we can't look too far ahead now"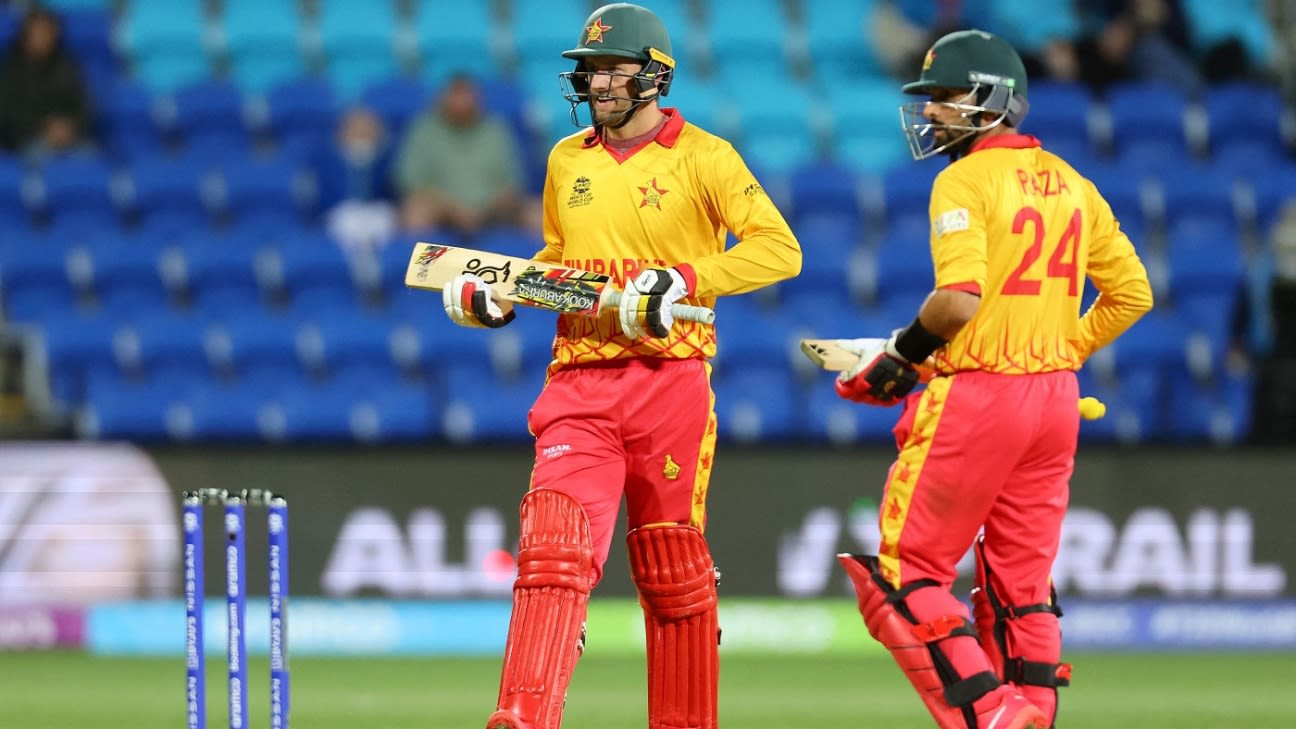 Zimbabwe captain Craig Ervine is cautiously optimistic about his side's chances against their most frequent rivals Bangladesh. The two teams will be playing each other in the T20 World Cup for the first time, and interestingly, it's Zimbabwe who for a change will enter as slight favourites, eyeing a place in the last four.
Bangladesh are still feeling the pinch after a record-breaking defeat at the hands of South Africa in their previous game, which undid most of their good work against the Netherlands. The difference between the two sides was quite apparent in their press conferences. Sridharan Sriram, the Bangladesh technical consultant, was not too pleased with some of the questions. Ervine however spoke confidently, particularly passionate about Zimbabwe's journey till this point.
"We've got a huge chance to make the semis," Ervine said. "It requires us to win against Bangladesh and also to beat Netherlands, and then we've got our final game against India, and depending on some other results. But we can't look too far ahead right now. I think we're probably just looking at tomorrow and trying to concentrate on tomorrow's game and putting in a good performance tomorrow, and then after that, then we can look at Netherlands and plan our way forward from there."
T20 World Cup scenarios: Pakistan rooting for India to stay alive

The tables have turned as Bangladesh take on Zimbabwe

Cricket might not love Zimbabwe, but the game would be poorer without them
Ervine was quick to point out however that in the T20 format, there are no guarantees, and taking their eye off the ball against Bangladesh will cost them.
"Obviously the win against Pakistan was absolutely massive for us, just to keep our chances alive of making the semis. But we know that we've only had to have a travel day yesterday, practiced today and tomorrow is our game against Bangladesh, so it's a very quick turnaround, and we can't sort of dwell on that win last night too much. We've got to concentrate on our next game, and Bangladesh is also a great side. We'll have to come here and play some exceptionally good cricket again tomorrow."
Sriram, who took over the Bangladesh campaign shortly before the team left for New Zealand last month, said that his side will be well prepared against Zimbabwe.
"I have never been part of a Bangladesh-Zimbabwe contest so I am not sure about the frequency of their meetings. The boys are well prepared. They know their opposition very well, it is something that we stress on. We pride ourselves on doing our homework.
"I don't think I need to tell you (about our plan) but we definitely have a plan. I think we respect Zimbabwe, they had an amazing performance against Pakistan. I watched every ball of it. The way they pulled it off against Pakistan was unbelievable. Full credit to them, full respect."
But Sriram seemed agitated with answering questions about team plans, the opening pair's lack of runs, how the team can turn things around after the South Africa defeat, and the expectations from the side.
"You are still on the opening pair, eh? Good for you. We got 47 in the first game, 26 for no loss in two overs against South Africa. The opening pair looks more settled, it is giving them more game time, more experience.
"The more they play together, against different oppositions and conditions, they will learn. Good players like Rilee Rossouw and Quinton de Kock kick on from good starts. It is a learning process for both (Najmul Hossain) Shanto and Soumya (Sarkar), and they will do it," he said.
Ervine, meanwhile, was quite happy to see his long-time friend Sikandar Raza become a sensation in the last few months.
"He's been absolutely phenomenal over the last few months. I think a lot of credit has got to go to his personality and his determination to never give up. We've seen over the years that he is so passionate about cricket and about succeeding and about winning. I think everybody plays around him really well. He's been such a good performer for us over the last couple months.
"We're going to need him to continue that for us because he's a huge key in the bowling and the batting department. On the day that he doesn't get runs, he contributes with the ball, as well. He's one of my good friends, and we've started our career a long time ago, but to see his development over the last couple years, it's so rewarding because he puts so much work into it."
Ervine has led the side impressively, at times having to play extra aggressively as an opener himself, while always opting for the attacking option when choosing a bowler.
"You always question whether you're doing the right things through all the different games, and I think to get the results we've gotten, it's been such a pleasure to have guys like Sean Williams, Sikandar Raza, Regis Chakabva on the field that I can consult with on a regular basis in pressure situations because it's very difficult for me just to make all of those decisions on my own.
"It's good to have different ideas and bounce things around. At the end of the day, I've got to go with my gut feeling, and fortunately it's been working pretty well so far."