Australia take cautious approach with Stoinis and Marsh ahead of World Cup
David Warner may also sit out the warm-up match against India with his stiff neck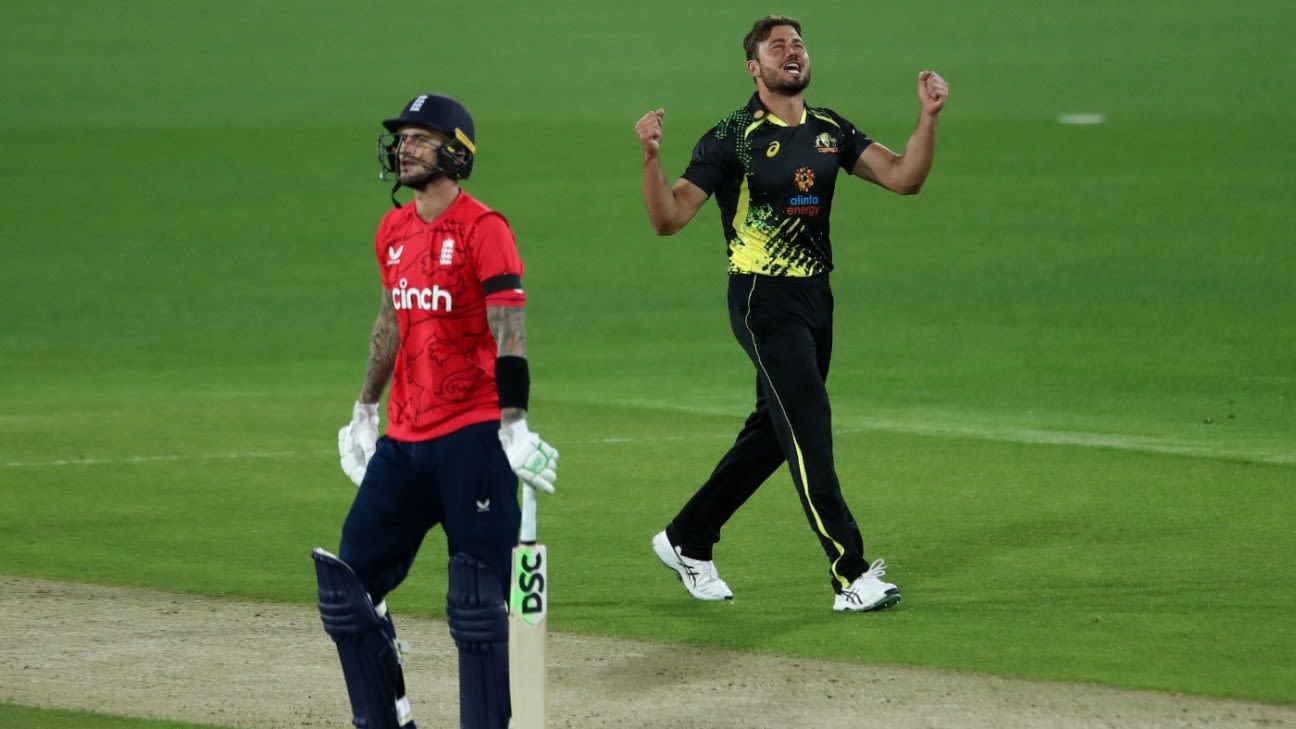 Australia are still managing the bowling loads of allrounders Marcus Stoinis and Mitchell Marsh to avoid any injury recurrence just a week out from their first match of the T20 World Cup while David Warner could be rested from the final warm-up game against India on Monday due to his neck issue.
Stoinis suffered a side injury in September and missed both T20I series against India and West Indies. He returned against England last week and bowled in the first two matches of the three-match T20I series but played as a batter only in last night's washed-out third game in Canberra.
Stoinis first had major side problems back in the 2019 World Cup and has had a number of related injuries and layoffs since. Australia's medical staff have identified that recurrences have often come about for Stoinis after returning too quickly to match-intensity bowling in back-to-back games following a layoff. Australia captain Aaron Finch explained that they were being cautious with him just a week out from Australia's first Super 12 match against New Zealand at the SCG.
Aaron Finch 'not a big fan' of non-striker run-outs after apparent warning from Mitchell Starc to Jos Buttler

Aaron Finch blames fatigue for Australia's form slump as rain spares whitewash
"Stoinis, the reason he wasn't available to bowl yesterday was just prior injury history, every time that he's tried to come back and ball back-to-back games coming off the same injury he has struggled and got a niggle on the back of it," Finch said. "So we went with the conservative route there."
Meanwhile, Marsh did not bowl in any of the games against West Indies and England and has not bowled in a match since injuring his ankle in the ODI series against Zimbabwe in August. Marsh did have a run through in the pre-game warm-ups in Canberra and he was hopeful of returning to the bowling crease in Monday's final practice game against India in Brisbane.
"Mitch has been building up his bowling at the moment," Finch said. "He just hasn't been at the intensity to go into a game that's required especially so close to a World Cup."
The bowling of Marsh, Stoinis and Glenn Maxwell is vital to Australia's balance given their preference to play seven batters and just four specialist bowlers, with the three allrounders providing coverage as the fifth bowler and giving a variety of match-up options for Finch.
Stoinis' absence and Marsh's inability to bowl was the reason why Cameron Green played so many games in the lead-up to the World Cup despite not being in the 15-man squad. Green also opened in all of the games he played with Finch sliding down the order in the three home fixtures against West Indies and England. Australia preferred to have their captain fill the more difficult middle-order role when Green was in the team while allowing the youngster to swing freely at the top of the order.
David Warner hurt his neck while fielding on Wednesday
•
Getty Images
Finch confirmed he would definitely open in the World Cup. Warner will partner Finch but he may not play in Australia's final warm-up game against India having missed the third T20I against England due to whiplash in his neck.
Warner suffered the injury while fielding on Wednesday night in the second match of the series. He was able to bat after suffering the injury on Wednesday and even managed to play golf in Canberra on Thursday. But he woke up stiff on Friday and was ruled out of the final encounter. Finch wasn't concerned whether Warner played on Monday or not.
"I think he would definitely be right for New Zealand," Finch said. "I'm not sure about the warm-up game against India. I think he was okay the day after he hit his head and then the following day, his neck got really sore and stiff.
"We'll wait and see what it's like. If he's fit he'll play. If he's still a little bit sore, we'd err on the side of caution. I think when you've got experienced players who know what they need to do to be ready for a tournament, you're not too concerned whether they play that game or not."