Netherlands relishing challenge that 'dreams are made of'
A T20 World Cup game against India at the SCG – stages don't get much bigger than this for the Dutch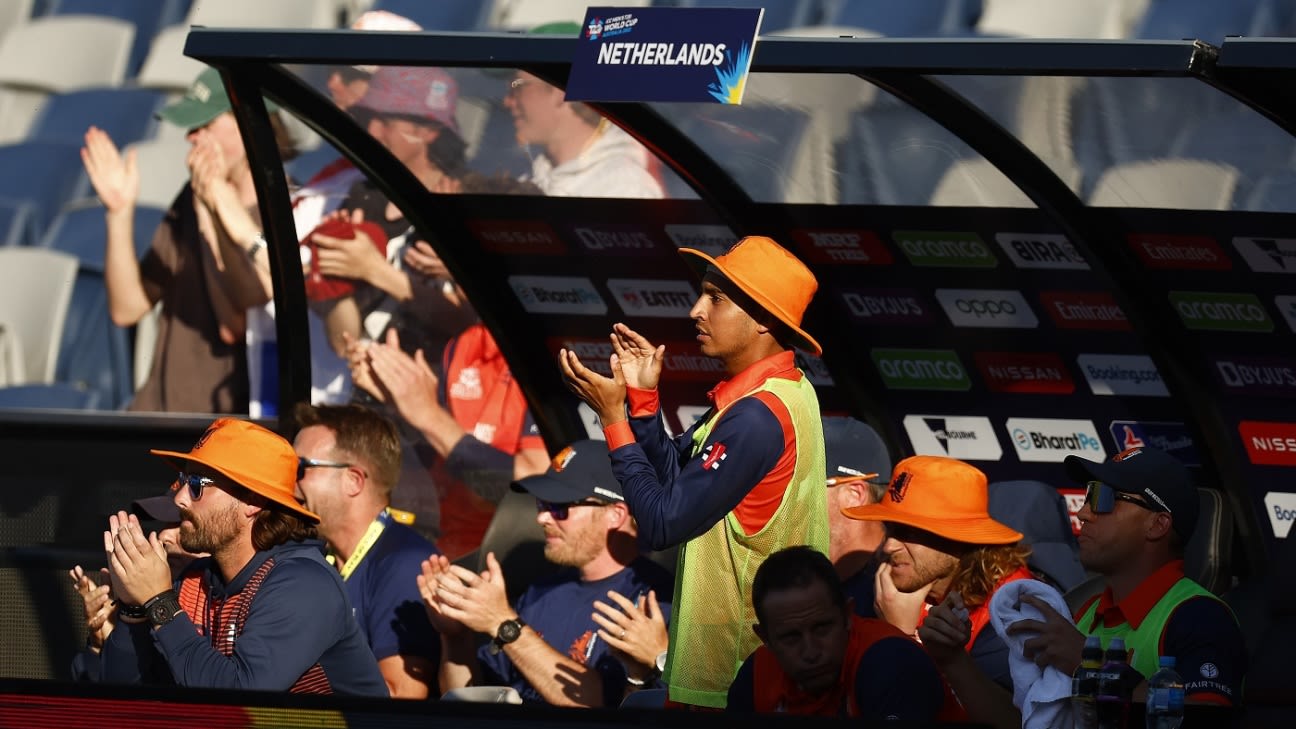 On Tuesday, Netherlands opener Max O'Dowd tweeted a picture of his diary for October 27. Below three technical notes – head to the ball, play straight, and play late – was written: "18:00 – T20 vs India @ SCG." The tweet was captioned: What dreams are made of.
Tomorrow in Sydney, Netherlands will face India for just the third time in international cricket. The previous meetings were at the 2003 ODI World Cup in Paarl and the same event in 2011 in Delhi.
Captain Scott Edwards often wore a wide smile during his pre-match press conference as he answered questions on whether his team could cause an upset, what plans they had for Virat Kohli after his display against Pakistan ("You hope you don't come up against him on one of those days because he looked pretty hard to stop") and whether the match was a shop window for players to get an IPL deal. Earlier in the week, Ricky Ponting said he had been impressed with Bas de Leede and there may be BBL interest from Hobart Hurricanes.
"It's huge," Edwards said. "You always dream of playing World Cups, and the SCG is one of the most famous grounds in the world. And then add in you're playing against arguably one of the best teams in the world, yes, it's pretty surreal."
While this is a very significant game for Netherlands, it is perhaps not quite as daunting as it once would have been, given the exposure they have had in the soon-to-be-defunct ODI Super League. It has provided them 24 matches (19 played, 5 to come) including series against West Indies, England and Pakistan in the most recent home summer.
Though wins have been hard to come by – just two against Ireland – it was a tournament Edwards cited more than once as having enabled crucial development and exposure for players. It ensured fixtures against teams who would not ordinarily play a side such as Netherlands, especially over three-match series, but it won't be part of the calendar again, meaning matches against those sides are likely to be thinner on the ground.
Netherlands came within nine runs of beating Bangladesh in their opening Super 12s game
•
ICC/Getty Images
"[It's] obviously disappointing that the ODI Super League is not going ahead," Edwards said. "It was a great experience for all of our players. Going forward there's more teams going to the World Cups in the future, which is great, but you've got to qualify for those events, which is always tough.
"It's a bit disappointing, but we're here now and we get to play another four, five, however many games in the World Cup which we're looking forward to.
"Coming up against these guys, it's a little bit of an unknown if you only play the bigger nations once every few years. The fact that we got to play 12 to 15 games in the last nine months gives us a lot of confidence. Even for individuals, you look at guys that have performed against these teams. It gives you that sort of acknowledgment that you can perform on a big stage against these bigger teams. We take a lot of confidence from that."
Netherlands will have one survivor from their previous meeting with India, Tom Cooper, and he brings with him an SCG average of 43.66 and two first-class centuries, although he's had four low scores in this World Cup. "He's obviously great to have on the squad," Edwards said. "He hasn't got the runs this tournament, but hopefully this is the game that he can get going."
After the game is completed, Edwards hopes there is a chance to spend a bit of time with the India players. "Any chance you get to learn from these sorts of players is awesome," he said. "We saw that at the last World Cup. They're generally pretty generous with their time."
Netherlands have stunned big opposition at the T20 World Cup before, twice beating England, at Lord's in 2009 and Chattogram in 2014. Cooper, Logan van Beek and Timm van der Gugten were part of the side in the second of those games.
With a little more composure they might have beaten Bangladesh in their opening Super 12s game, but no one expects them to run India close. Yet, as Ireland have just shown against England at the MCG, anything is possible.
"I don't think there's many people out there expecting us to win," Edwards said. "For us…we'll play our best brand of cricket and we'll do everything we can to win this game. But there's no pressure on us in that sense."
It's a match that dreams are made of but maybe, just maybe, it's one where dreams can come true as well.