Finch: My innings was poor, I just couldn't hit the ball
The Australia captain's performance was in the spotlight even though the team won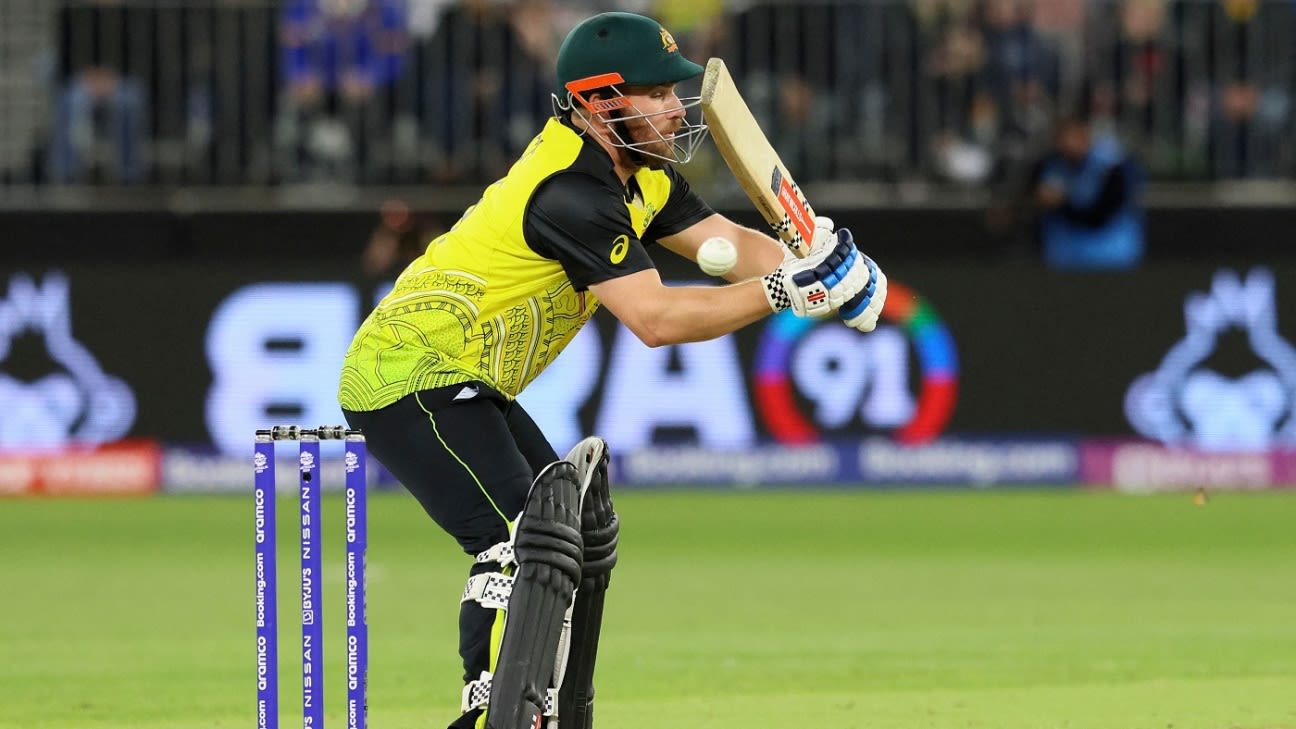 Aaron Finch has conceded there was "no excuse" for his painfully slow innings against Sri Lanka in Perth which heaped the pressure on Australia's run chase until they were rescued by Marcus Stoinis.
Finch could barely contain his frustration as he crawled to 31 not out off 42 balls in Australia's seven-wicket win on Tuesday night. The match will be remembered for the Stoinis fireworks display at the death, with the allrounder cracking an unbeaten 59 off 18 balls.
But Finch's scratchy performance did not go unnoticed, with former Test star Mark Waugh labelling it "torturous".
At one stage, Finch had scored four of 15 balls. During a stretch of play in which he was totally bamboozled by paceman Lahiru Kumara, the 35-year-old quipped to the umpire: "Happy to take any ideas if you know how to hit that".
Aaron Finch acing verbal volleys but needs his bat to do the talking

Green called up after golf injury rules Inglis out of T20 World Cup

Stats – Contrasting records for Stoinis and Finch

Stoinis provides the spark to light fire under Australia's title defence
Things only got slightly better for Finch as his innings wore on. He was dropped on 23, was lucky to survive a series of bottom and inside edges that only narrowly missed his stumps, and he shouted a frustrated "oh my god" at the death following yet another mistimed shot.
Finch's innings – at a strike rate of just 73.81 – was the slowest of any consisting of 40 or more balls in men's T20 World Cup history.
"Obviously my innings was unusual, it was poor," he said. "I just couldn't hit the ball…they bowled a hard length, it was tough. It's such a big ground you feel as though it's hard to just stand and deliver, especially with a bit of extra bounce and when the ball's seaming slightly you feel it's just not quite as easy to hit the middle of the bat, but that's no excuse for the way I played, but it was nice to get the two points."
Aaron Finch could never get going
•
AFP/Getty Images
The under-fire Finch, who retired from ODIs last month, has passed 50 in just one of his past 18 innings in official international matches, averaging only 11.88 in that time across all formats.
Finch's most recent score of note came in a warm-up match against India last week, when he made 76 off 54 balls. Stoinis praised Finch for seeing out the win until the very end.
"That new ball was doing a lot. From what I could see from the boundary, it was definitely the hardest time to bat," he said. "It was just important that he saw that through and was there to hit the winning runs."
However, Waugh argued that Finch's innings made it very difficult for him to be retained as an opener for the England match on Friday and called for Cameron Green, who is now in the squad as a replacement for Josh Inglis, to be recalled in place of Pat Cummins and partner David Warner at the top.
"I'd bring Cameron Green in and I'd bring him in for Pat Cummins, and I'd let Cameron Green open the batting," he told radio station RSN. "That's the one change I would definitely make. I know it's a bit of a gamble, it leaves your bowling a bit short.
"But I think Cameron Green can bowl four overs as good as any of the other bowlers at the moment. Aaron Finch's innings was torturous. I don't think he can open the innings in the next game. If he plays, I don't think he can open."