Cummins named Australia's ODI captain with a 'wider' leadership group underneath
The Test captain replaces Aaron Finch as the leader of the ODI team ahead of next year's World Cup, but there could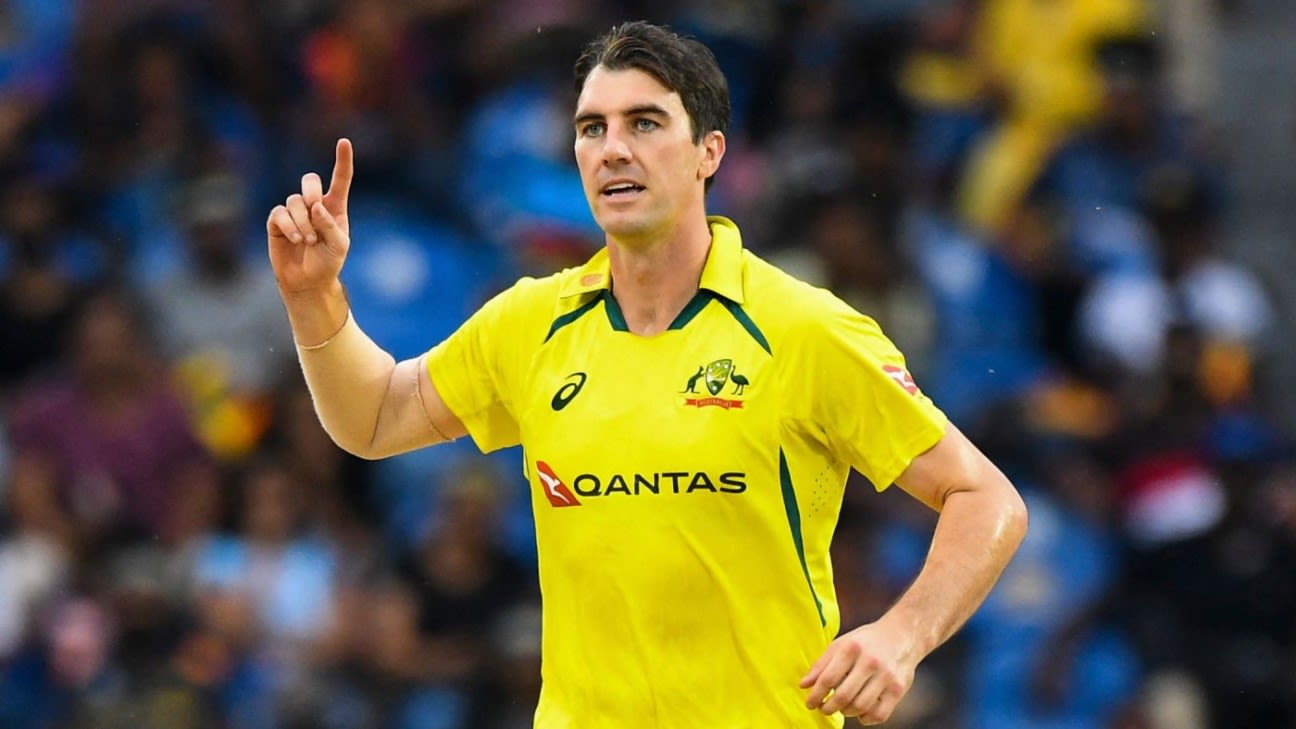 Pat Cummins has been named Australia's new men's ODI captain, replacing Aaron Finch who stepped down last month, but he is set to be supported by a wider leadership group rather than a traditional vice-captain.
Cummins, who is also the Test captain, will now lead in two formats although it is unlikely he will play every ODI in the lead-in to the 2023 World Cup given his workload.
"I have thoroughly enjoyed playing under Finchy and have learnt an enormous amount from his leadership," Cummins said on Tuesday. "They are significant shoes to fill although we are extremely fortunate to have a one-day squad with a huge amount of experience."
There were a number of candidates to take over from Finch, including current vice-captain Alex Carey who stepped in as ODI captain last year on the West Indies tour when Finch was injured. There was also talk David Warner could return to the role if his leadership ban was overturned. Mitchell Marsh was also sounded out for the role but opted to remain in the ranks.
Finch's retirement, and the current composition of both the ODI and T20I teams, meant CA was limited in the number of options who could captain in both white-ball formats. CA had a preference to have just two national captains rather than three. As a result the option of having Cummins captain both the Test and ODI side while Finch continues to lead the T20I side was viewed as the best option. It is also set to be a campaign-focused appointment for the World Cup rather than a multi-year term.
Cummins has regularly been rested from the ODI team in recent times including the last two series that Australia played against Zimbabwe and New Zealand in August and September.
Cummins: Unrealistic to be only captain across all formats

Hazlewood unsure if multi-format quick could be ODI captain

Warner's captaincy ban step nearer to being overturned
Chairman of selectors George Bailey confirmed that Cummins' appointment was a "no brainer" but noted that he will likely be supported by a number of leaders underneath rather than one vice-captain, with multiple players possibly leading the team in different games when Cummins is rested.
"We've got 14 games until that World Cup, and we think Pat's the perfect person to lead this group," Bailey said.
"I think we've been really clear, not just with Pat but all our multi-format players that we will continue to manage them as best we can, across all formats. [We're] very clear on prioritizing key series. And I also think that we've got a number of players within the group who can assume the leadership should they need to. I don't expect Pat to play every one-day game in the lead-up to the World Cup. And so I expect that we might see two or three guys taking leadership for a game at some stage.
"In our one-day team, we do feel like we've got some strong leaders, some really experienced members of the team, and some developing leaders. So regardless of Pat being there, I think we are moving away from this concept of a captain taking over and their leadership being all-encompassing."
Australia's next ODI cricket is in late November with a three-match series against England. If Australia reach the T20 World Cup final there will be just a three-day turnaround to the opening game in Adelaide and with the Test summer starting shortly after, which begins a run of up to 15 Tests in eight months, that is the type of series Cummins could yet sit out.
After the England matches, Australia's next ODIs are not until late March with series against India and Afghanistan.
Cummins said he was comfortable stepping aside from certain series given the leadership in the group.
"Just because you're captain it doesn't mean you have to play every single one of these ODIs," Cummins said. "We've still got potentially 15 Test matches before the next World Cup so I think the confidence looking around the group knowing we've got lots of strong leaders there that even if I'm captain and I'm not there I don't have to worry about at all."
There remains a possibility that Warner could be one of options to step in for Cummins when needed in the future with the chances of his leadership ban being overturned becoming more likely after the CA board proposed a change in their code of conduct.
"I welcome Cricket Australia's review into the code of conduct," Bailey said. "I think that's excellent. What I do hope is that happens in a really timely manner. Again, I think the longer that drags out, it just leads to speculation. I don't think that's helpful. And certainly, I don't think it's helpful for Davey."