Aaron Finch blames fatigue for Australia's form slump as rain spares whitewash
Australia captain calls for pre-World Cup 'sharpen-up', backs Maxwell to come good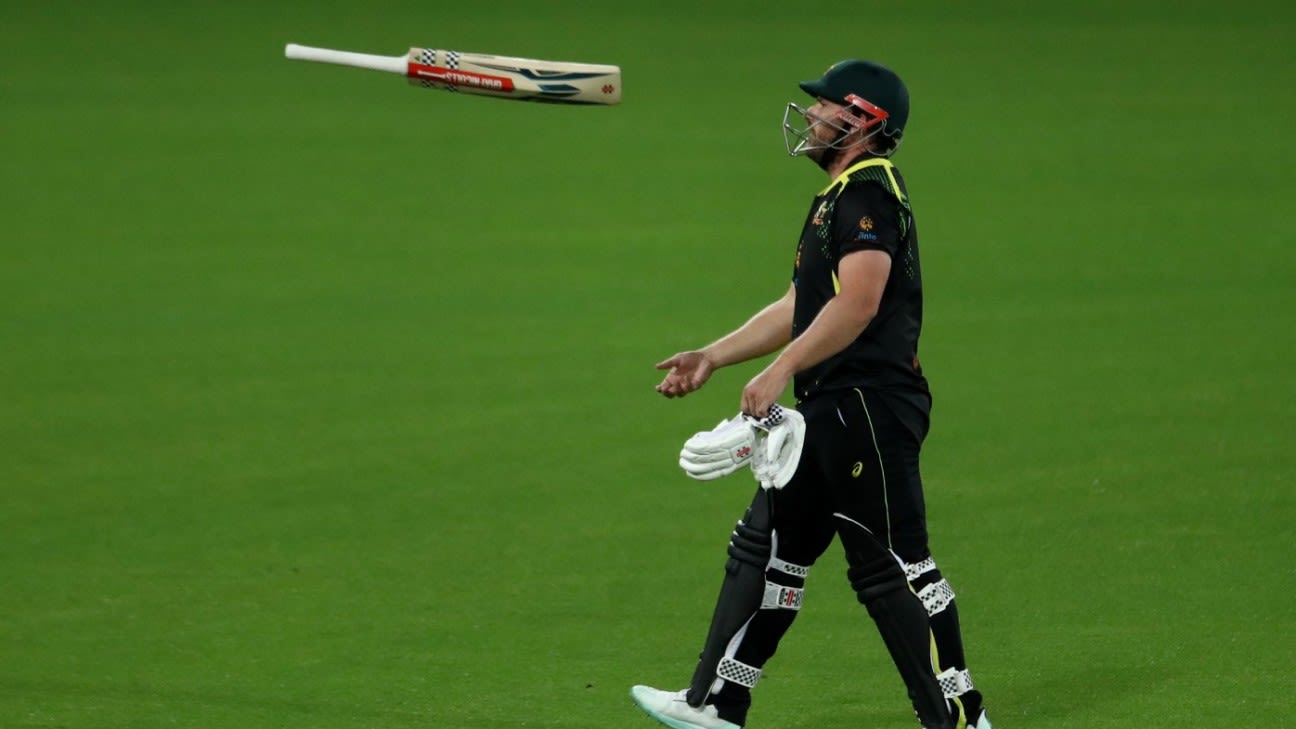 Aaron Finch has admitted there is some fatigue in the Australia squad but remains confident that they can peak at the right time in their T20 World Cup title defence.
Australia were seemingly heading for another defeat in Canberra before the rain returned which meant the series against England finished at 2-0 to the visitors. It completes Australia's official T20Is ahead of the World Cup but they have a warm-up match against India in Brisbane on Tuesday before relocating to Sydney ahead of their tournament opener at the SCG on Saturday.
Since the end of August they have played two ODI series against Zimbabwe and New Zealand, featuring the majority of the World Cup squad, then went to India for three T20Is which were followed by the five home games against West Indies and England.
"Think the guys are probably a little bit tired at the moment in all honesty," Finch said. "The schedule has been so packed over the last six or eight weeks. We identified a couple of months ago that we want to be peaking at the right time for the World Cup and not beforehand so it's going to be important over the next couple of days to try and freshen everyone up as much as we can."
Finch suggested the heavy schedule could be playing a part in Glenn Maxwell's run of low scores. They continued when he fell for 8 having been promoted to open in place of David Warner, who missed the game with a sore neck caused by the heavy landing near the boundary in the second match.
Although his latest innings needed the context of a shortened chase where Australia wanted to try and get ahead of the DLS, Maxwell has now made single figures in his last seven T20I innings. However, Finch was of no doubt he would come good in the World Cup.
"He's an absolute matchwinner," he said. "With guys like that who play a high-risk game you have to ride the ups and downs at times. With the ball he's contributed really well and in the field his contribution is as good as anyone in the world.
Adam Zampa: World Cup opener will get Australia's 'juices flowing'

Australia take cautious approach with Stoinis and Marsh ahead of World Cup

Crucial days loom in Warner leadership ban

Maxwell and fielding in the spotlight as Australia look to arrest pre-World Cup blip

Canberra washout denies England a whitewash
"With the bat he'd have liked more runs, no doubt, we all would, myself included. But the reality is you can't expect someone to play a game that high risk all the time and be consistent. His numbers over a long period of time are remarkable.
"And he's probably one who is a little bit fatigued as well. I know he's had a really big workload, coming off the Hundred then the series post that. For Maxi if he gets a really good freshen up over the next few days he'll come out firing at this World Cup, no doubt."
Finch had no complaints about the overall series result which extended a poor run for Australia against England with just one win in their last eight T20I meetings. The two teams face each other during the group stage of the World Cup, at the MCG, on October 28.
"Overall we were pretty disappointing in this series, England definitely outplayed us," he said. "With the bat we were probably always one wicket further down than we needed to be over the whole series. In big run chases you need that one 'in' batter towards the end, we were just falling a little short each time with that.
"With the ball there were some really good signs; the way Maxi closed out tonight, Zamps' contribution, all the quicks have had good roles and Stoin as well in that last game. All in all we aren't bad, just a little sharpen up would be nice."