After thorny run-in, Australia hope for smooth start to title defence
The build-up was full of fitness concerns and off-field noise; now it's time for a star-studded line-up to flex its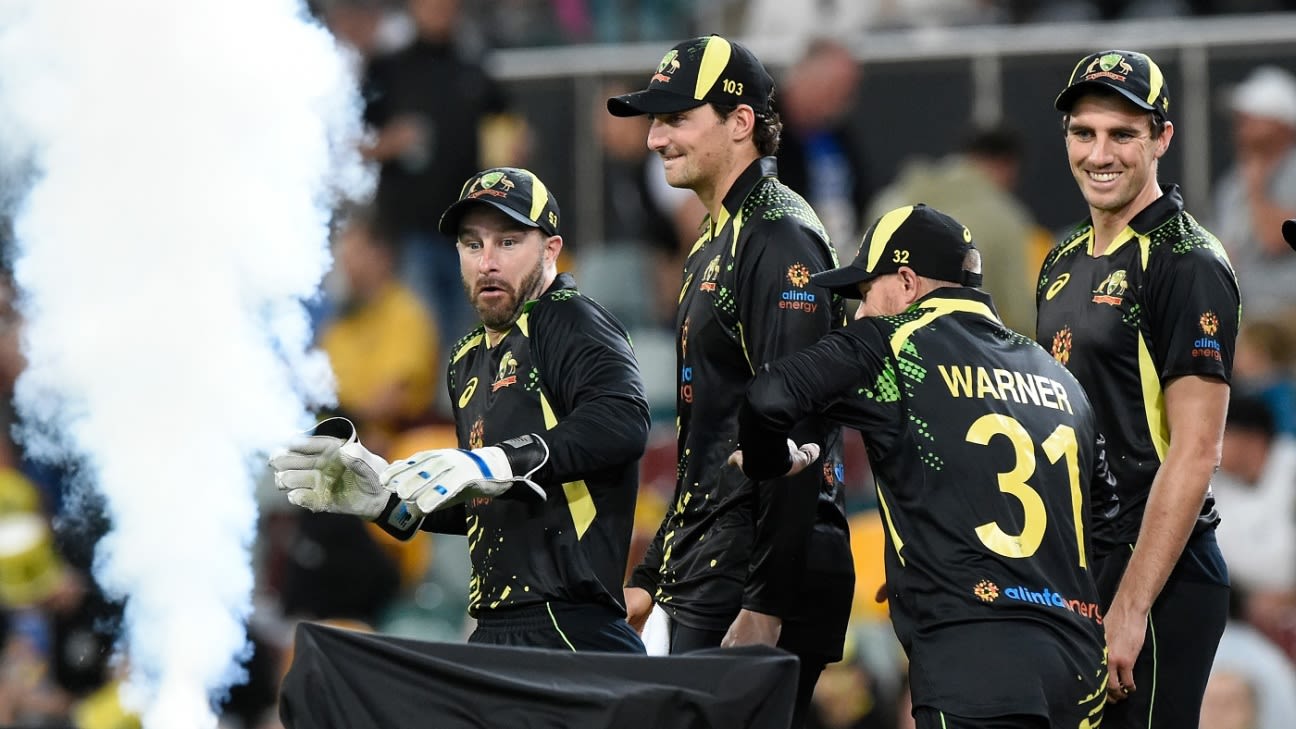 In many ways, Australia's preparation for their T20 title defence has felt like a contradiction. In all probability the XI that takes the field at the SCG on Saturday (weather permitting) will be the one that has appeared likely for quite some time, with Tim David replacing Steven Smith from the last T20 World Cup.
So while that projects a sense of a stability, there is a lot else that has been going on that would suggest a build-up that has been far from ideal. It has included managing injuries to key allrounders Mitchell Marsh and Marcus Stoinis, plus back-up bowlers Ashton Agar and Kane Richardson; a significant amount of travel, including a week-long trip to India; the debate around David Warner's captaincy ban, which national selector George Bailey made no secret was becoming a frustratingly drawn-out affair, and the appointment of Pat Cummins as ODI captain along with the debate around one of Australia's leading sponsors.
New Zealand take on Australia under La Niña's shadow

Changing New Zealand come up against bogey team with form not on their side

Adam Zampa: World Cup opener will get Australia's 'juices flowing'

Matthew Wade: 'When you go in feeling like every tournament is your last, it's funny how open-minded it makes you'

Weather watch: High chances of rain affecting Aus vs NZ, Ind vs Pak
Most recently an old golf club snapped in Josh Inglis' hand on the second hole at the La Perouse course in Sydney, badly cutting the wicketkeeper and ruling him out of the tournament. In itself it is not the most damaging injury the squad could have been dealt on the eve of the tournament – Inglis would not have been in the starting XI – but it left an unwanted conversation about who should be the replacement and its implications (Warner as wicketkeeper, perhaps?). Inglis was also a very versatile batting understudy.
On the field Australia would have been beaten 3-0 by England if it wasn't for rain in Canberra, after which Aaron Finch made comments about fatigue in the squad after the lengthy build-up. A number of players have felt they have had matches they didn't need, but then on the other hand there have been one or two lingering form questions, although Finch made timely runs against India at the Gabba.
Mitchell Marsh looks at home at No. 3, but it's unclear whether he'll be fit to bowl against New Zealand
•
Getty Images
Glenn Maxwell remains the one who has yet to put in a significant contribution with the bat this season – although he, too, looked to be getting going against India – but he is being backed to come good when it really matters.
"I think it looks a lot different on the inside than it does on the outside," head coach Andrew McDonald said of the build-up. "We have a task at hand and that's to get the players ready for the first game.
"Probably the thing that's consumed us the most has been injured players returning and you've seen in the lead-up that we've had to not take certain players to certain fixtures because of the risks of injury, so that's been our big discussion to get the eleven players who will play that first game to the start line. The medical team has done a fantastic job. So we've had our own, probably internal, battles as opposed to what's been happening on the outside."
The injury concerns over Marsh (ankle) and Stoinis (side) were the most critical to Australia's build-up given their overs are vital to balance the side since it moved to seven batters and four bowlers. McDonald conceded losing one or both of the allrounders "was real" for a period of time over recent weeks, which led to their extended use of Cameron Green at the top of the order after his success in India, in turn leading to the unusual sight of Finch batting in the middle. In the end Green has found his way into the squad, but as Inglis' replacement.
Marsh may still not be right to bowl in the opening game against New Zealand and there are lingering concerns over Stoinis being able to back up in a tight schedule, particularly when travel is included – Australia, as hosts, play each group game at a different venue. In the balance of their side, Maxwell becomes as important for his bowling as his batting.
Yet, despite all of that, if Australia can put their expected XI on the park, it looks very strong. David has brought more power and finishing ability to the middle order, Warner has played some sparkling innings leading into the tournament, Marsh still looks at home at No.3, Matthew Wade has had a prolific 12 months as a finisher, and it's hard to pick holes in the four frontline bowlers with Adam Zampa and Josh Hazlewood particularly dominant in the format.
Tim David's finishing prowess will be put to test in the T20 World Cup
•
Getty Images
The big selection call has been to move Smith aside from the first-choice XI, although McDonald reiterated there could be a role for him during the tournament. While Smith has shed the 'Mr Fix-It' tag, there is still the question of how Australia respond if they are in early trouble against the new ball, but McDonald was confident others could do that role.
"The term 'hitters', those players have a few extra layers than just being able to hit the ball over the ropes," he said. "They do have some power but they do have some craft as well."
All this does not mention the opposition themselves on Saturday, the well-drilled New Zealand side who were the other finalists last year and have a terrific record in global events. However, there is a thought that they are side that has, perhaps, passed its peak while they have not beaten Australia in any format in their country since 2011. The hosts are probably not too disappointed to be starting against them.
After a long build-up that has not all been smooth, it is what happens at the SCG that matters. The prospect of rain and a shortened game brings further jeopardy. No men's team has yet to defend the T20 World Cup and there is very little room for a mistake.