Wade: England World Cup thrashing was Australia's 'lightbulb' moment
Australia's wicketkeeper is looking forward to seeing how their power matches up this time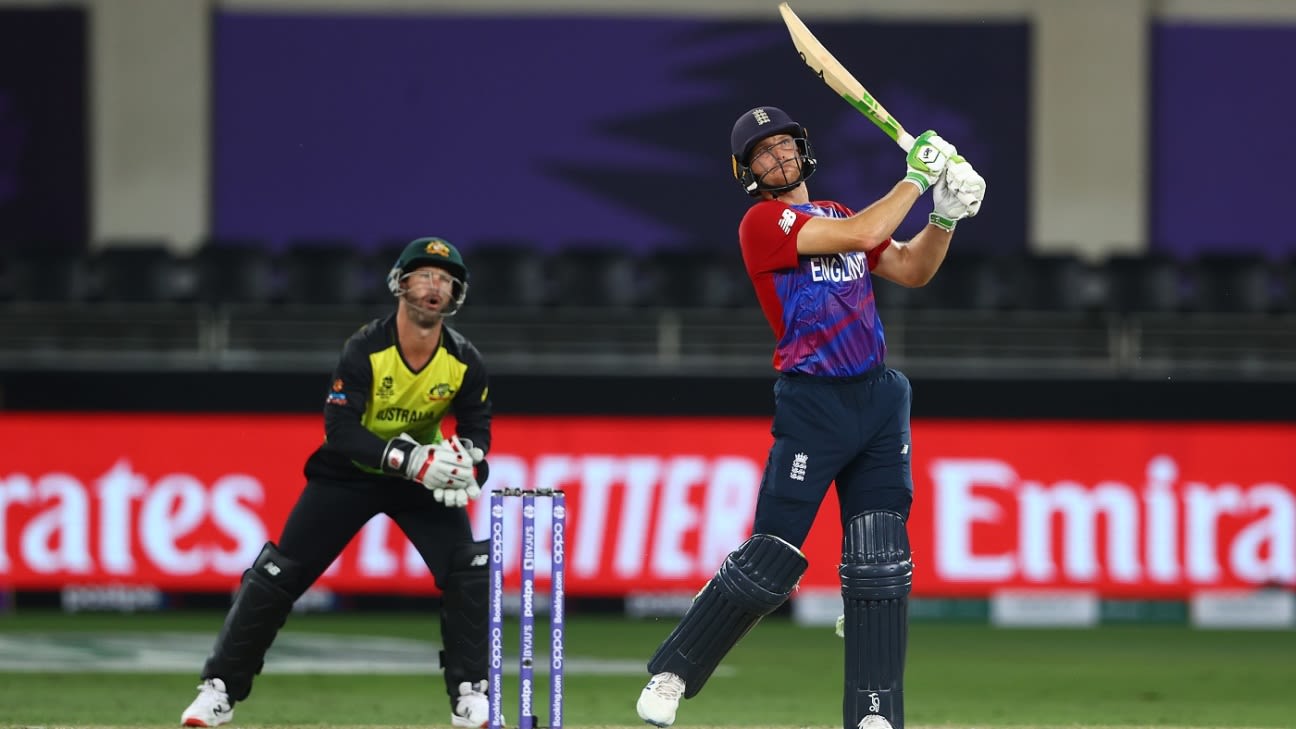 As they prepare to face England as part of the T20 World Cup preparation, Matthew Wade has pinpointed Australia's heavy defeat against them in last year's tournament as the key moment in the transformation of their T20 fortunes.
Though Australia started their campaign with victories over South Africa and Sri Lanka, the crushing nature of the loss to England – with 50 balls to spare – left them under run-rate pressure and was a "lightbulb" moment, according to Wade.
Australia completed the group stage with a thrashing of Bangladesh and a very convincing chase against West Indies to book a semi-final spot. Wade and Marcus Stoinis were the heroes against Pakistan before David Warner and Mitchell Marsh carried them home in the final against New Zealand.
Matthew Wade: 'When you go in feeling like every tournament is your last, it's funny how open-minded it makes you'

Smith's T20 World Cup hopes hang by a thread as 'incredible' David shines again

Buttler eager to unleash Stokes, but World Cup doubts remain over Livingstone

Australia and England have final World Cup spots up for grabs as run-in gathers pace
"The World Cup game, they demolished us and that kind of changed the way we went about playing T20 from that point onward and we have been playing a different style of cricket," Wade said as Australia arrived for their whistle-stop visit to Perth. "Think that was the real lightbulb moment, I suppose, for the team that we needed to change the way we wanted to play."
Having ditched the five-specialist-bowler strategy they had used for much of the build-up at the start of the World Cup, and was the preferred tactic of former head coach Justin Langer, they then reverted to that balance against England by recalling Ashton Agar only to crash to 21 for 4 from where they couldn't recover. It was a change that lasted just one match.
Like England, Australia now put huge stock in a deep batting order with Wade usually coming in at No. 7, backing four specialist bowlers and a collection of allrounders for the 20 overs in the field.
"It will be good to match-up against them now," Wade said. "We obviously go a little bit harder with the bat, we play seven batters, we know we can get a lot more runs and we know you need that against England, you need to be able to score 180-200.
"I feel like from that point in the World Cup to now we've got a team together that can post big scores and chase down big scores. Really keen to see how we go against England, they've been the benchmark, to be fair, in T20 for a long time. I know they got knocked out of the World Cup but they were arguably the best team up until that point. So it will be good to test ourselves."
The one new face in the squad for this year's World Cup from the last edition is Tim David who has added some fearsome power to the middle order as he showed against West Indies at the Gabba with 42 off 20 balls to follow the 54 off 27 he made against India in Hyderabad.
"We knew what we were going to get with Timmy, but to do it the way he has straightaway at international level is really impressive," Wade said. "The advantage he has got is he has played so much T20 cricket already and has played against a lot of these guys in other leagues so he has a little bit of experience that other players may not get. And with Mitch Marsh coming back and Stoinis, we are starting to get a really powerfully line-up."